In February of this year at the Disney Social Media Moms Event in Orlando, I ended up sitting next to Vera Sweeney at one of the events. When I say we hit it off in an instant, I mean… it was in an instant. We were laughing, swapping stories and just having a great time together. It was there that Getting Gorgeous with the two of us was born.
Writing about fashion and beauty every single day for moms… I had often wondered why there hadn't been any events planned specifically around those 2 areas. We may be mothers and have 100 to-do lists and places to be, but we're still women. Fashion and beauty is something we still care about, it's just taken on a different role in our lives. Vera and I wanted to bring together 12 sponsors – all fashion and beauty related – that could bring some easy, practical and doable fashion and beauty advice into the lives of moms. We started planning in February… and our "baby" was born on Friday, August 6th at The Warwick Hotel – GETTING GORGEOUS! We invited 350 bloggers to come spend the day with us and our sponsors for the event! It was INCREDIBLE.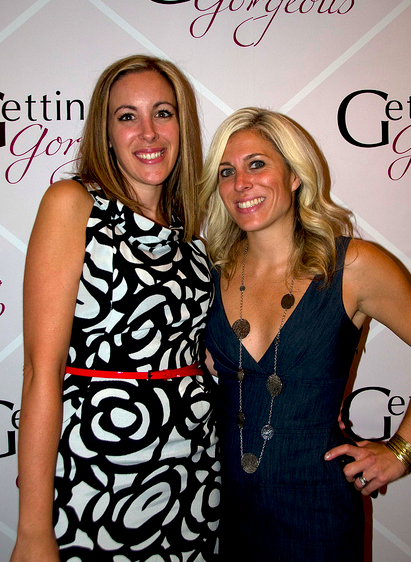 Liz Lange and Jane Wagman of Shopafrolic came to Getting Gorgeous and just WOW-ed the crowd! Liz Lange is a staple in so many of our maternity wardrobes, so to have her there was just incredibly cool. Shopafrolic is one of my favorite destination's online and I was so excited to have them at Getting Gorgeous!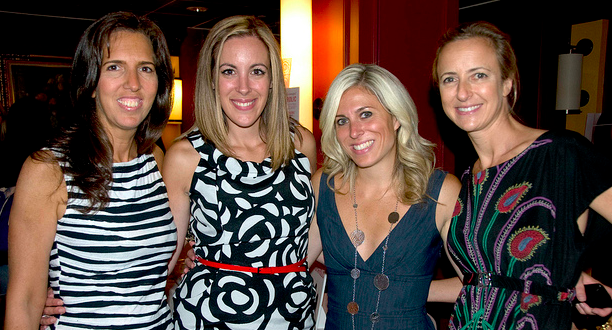 Miraclebody Jeans (which make you look 10 pounds thinner in 10 seconds, NO JOKE!) brought the amazing, amazing Robert Verdi(I bow down!)! He dazzled and fit and made women feel comfortable, beautiful and (dare I say it) sexy!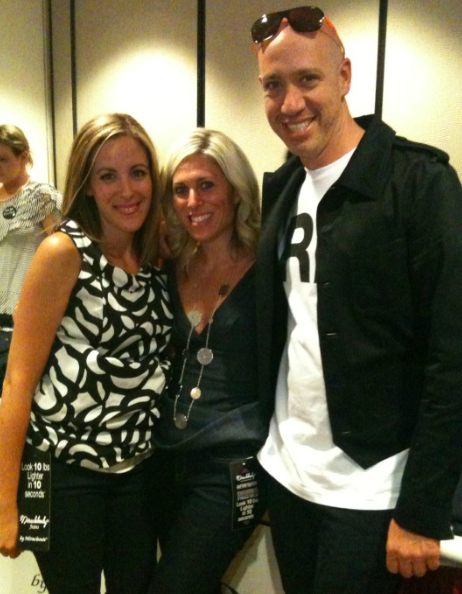 Skechers Shape-ups were on hand with the beautiful and talented Andrea Metcalf. Everyone had the chance to try a pair on Shape-ups and really feel and see the difference in the sneakers. They are amazing!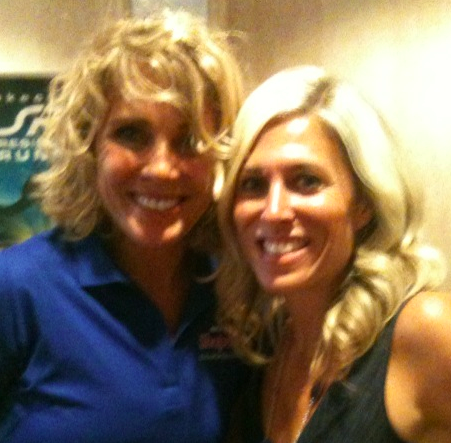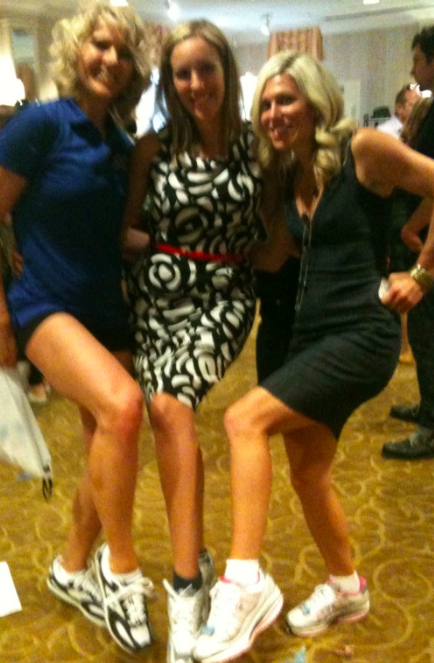 Tide was showing off their SWASH – honestly… one of my favorite, favorite must-have always on me products. It dewrinkles without an iron! You spray. You smooth. You go. How easy is that!? Tide is a brand I have been loyal to my whole life, having them at Getting Gorgeous with an item that makes a mom's fashion life easier was a dream for me!
Sarah Potempa came to Getting Gorgeous! Sarah is an amazing celebrity hair stylist and transforms the way women look. She has her own blog where she actually has self-tutorials where she's doing her own hair and teaching people how to do it… I am addicted to them!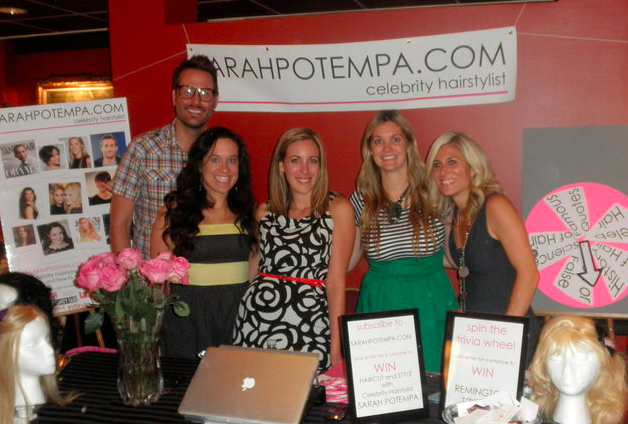 Lia Sophia was showing their gorgeous jewelry collection. Every blogger who came to Getting Gorgeous got to take a piece of Lia Sophia home, too. They got to choose between a bracelet or necklace. I'm not kidding when I say, the next day at BlogHer everyone was sporting their items!

Kmart Design brought their Fall Collection and amazed the bloggers with its style and chicness. I don't think anyone walked away unimpressed with the selections and upcoming collection! Having Kathy, VP of Women's Design at Getting Gorgeous was an even bigger treat!
Hanes brought their always amazing undies, camisoles and bras. They have a brand new bra ComfortFlex Fit – which is WIRELESS! It's absolutely (ABSOLUTELY) comfortable and oh-so-cool. Vera and I are on the Hanes Comfort Crew and couldn't have been more touched to have them support us!
Remington brought RICHARD MARIN!!!!! This was a pinch me moment, I love Richard and have always been a huge fan. He was there on-hand styling hair and talking about Remington's newest products and tools. Remington also had 2 other stylists there making every blogger who sat in the hair styling chairs look gorgeous!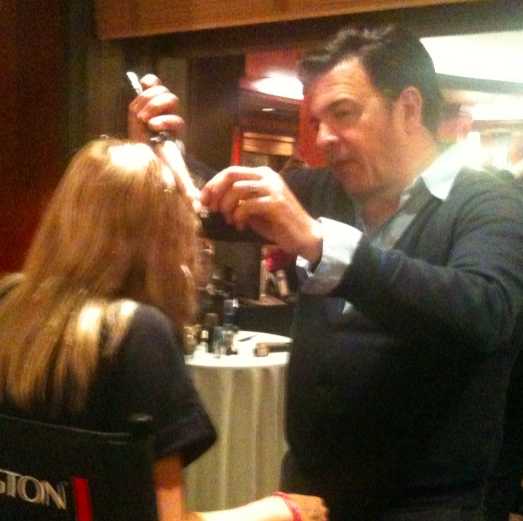 Kodak was there with their Kiosk letting women print out any photos they wanted and allowing them to create collages. There were so many memories being made this past weekend and Kodak truly let us capture the moments with their Kiosk set-up on-site. Every blogger who had the chance to make a collage raved about the ease and convenience! Thank you so so much, Kodak!
Powermat CHARGED everyone up! I was there a couple of times throughout the event charging away. We were so excited to have Powermat there with us. We wanted to give women in afternoon of fashion, beauty and pampering – you can't feel relaxed or pampered thinking that your cell phone is about to die. By having the Powermat station, every blogger could relax and take a deep breath because they weren't going to have to hide in the corner with their cord or run back to their hotel room!
E.L.F. Make-up and ageLoc were at Getting Gorgeous making everyone BEAUTIFUL! There's nothing like sitting down and letting someone else takeover!
AND… a HUGE thank you to Pier 1 for providing the most gorgeous and relaxing lounge area for bloggers.  I cannot tell you how many women took advantage of putting their feet up and just relaxing it out with some friends.  It added a perfect component to Getting Gorgeous.
Thank you to everyone for joining in our first Getting Gorgeous event… we are taking these on the ROAD and cannot wait to see you all again!!