Wow. Seriously, wow.
I am completely blown away by the response to the Hottest Male Blogger contest.
Not only was my Inbox flooded with votes and veritable love letters to the nominees… not only did some of the nominees have a really good time with it… but this little experiment actually went viral, and got picked up by sites like mediabistro and Gawker.
GAWKER, people! Now that's hot.
After tallying up all the votes that came in through email, Twitter and comments, a winner has emerged.
So without further ado, let's congratulate…
PETER SHANKMAN, founder of HelpAReporter.com, for the honor of being voted HOTTEST MALE BLOGGER!

Why did he win? Well, he received the most votes, of course. (So many that at times I was cursing myself for giving my email address as a voting method.)
But behind the votes, there were the reasons why this blogger is so hot. There were many reasons. They were funny. They were poignant. They were touching. They were un-PC.
They were so great that I have to share them. Here are a few:
"The guy has nads the size of boulders.  (GUESSING of course!)"
"He is hot because he genuinely wants to help people out. His belief in karma encourages others to be generous as well."
"He's one hot Jew!!"
"Brains, sense of humor, looks, the whole 9 yards!"
"He's creative, funny, daring and his blog is actually useful and actionable on a daily basis."
"He's hot because nothing holds him back!"
"Not just hot, but very resourceful, helpful, innovative."
"The type of guy who is extremely successful yet humble."
"He truly rocks the boat of life."
(At this point, I'm feeling the overwhelming urge to say, "Peter Shankman, this is your life.")
Now, I would like to ask the runners-up to:
a.) step off the ledge, and…
b.) give yourselves a hand.
Just don't go questioning your hotness, guys, because let me tell you… your fans were just as enthusiastic.
Proof? OK, here you go:
Pete Cashmore (um, some comments were totally NSFW; I'll pick a tame one): "He's not JUST nice to look at but smart as well."
Mike Doe: "Fabulously funny and definitely hot."
Jason Phillips: "I'm voting for Jason 'cause with a promise like that, he'd better deliver. Oh, and he's pretty damn hot too."
Jeremy Biser: "I am Jeremy's wife. And he is ridiculously hot." (Not even close to his only vote, of course, but just so cute I had to use it. Awww!)
Guy Kawasaki: "Brilliant, funny, good-looking, friends with everyone, and generous. What more could you ask?"
Joeprah: "Devoted dad, smart writer and funny. And oh yeah, really good looking."
Ezra Klein: "Hello, a man who can cook… I am drooling already."
And to you guys, I also give you these parting gifts from which to choose for your blog (designed by the lovely Dawn):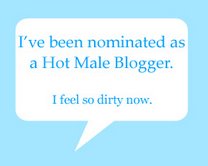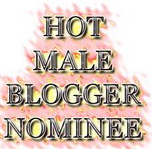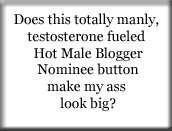 There were a bunch of write-in nominees, too. Apparently, there's an amazing number of hot male bloggers out there, and plenty of people who want to spread the word about their hotness. Who knew?
To everyone who feels their favorite hot blogger was slighted, I will say this: duly noted, my friends, duly noted.
You may rest assured that as I type, I am rubbing my hands together with evil glee, preparing for Part II of this little experiment.
Stay tuned.
And, once again, CONGRATULATIONS, PETER!
Now go check out his service, HelpaReporter.com (HARO), which connects reporters looking for sources with, well… sources for their articles. That's where you or your company comes in. And that equals publicity for you. Everyone wins!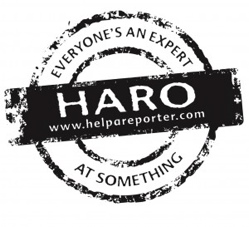 Now go forth and spread the hotness.