As of September 5, we will have lived in our house for two years. That's almost 731 days of staring at a white primed-but-not-painted wall. It's time for some color.
Last month I asked you, my readers, to help me decide which color to paint my bedroom. MyPerfectColor.com had sent me 5 different paint samples of Benjamin Moore paint to test out, and it was up to you to decide on the color.
It was a photo finish, but Northern Air (Benjamin Moore 1676) ended up coming out on top.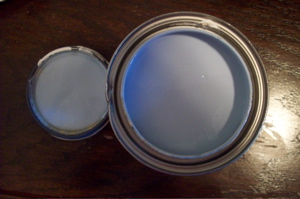 And I am determined to paint my room Northern Air before the 2 year anniversary mark hits. Determined.
Now, I had never bought paint online before. Two years ago, when we were first moving into our house and I took care of painting the downstairs rooms, I made countless – countless – trips to the paint store down the street. I seriously felt like I lived there at times.
I wanted to get everything just right in my new home. And despite the fact that people were there to help the customers, I was never really assisted in any way. It was just kind of like, "Oh, you know what you want? OK, I'll mix it and ring you up."
That's what has been one of the best things about working with Jason at MyPerfectColor. He is awesome at customer service and incredibly knowledgeable about all things paint. Whenever I've had a question about paint colors, paint finish, paint color combinations – anything – he has gotten back to me promptly, with great advice.
Plus, I loved being able to browse the paint selection online, get color ideas by mood and style, see which Benjamin Moore interior paint colors Pottery Barn has chosen each season, and even see the trends in paint buying at MyPerfectColor (such as popular paint choices by room, hue, geographic area, etc.)
In any case, once I told Jason that the votes were in and Northern Air would be the color, he helped me with the next steps. I went with Benjamin Moore Aura paint because of its durability. As for the paint finish, I wanted something not too dull but not too shiny (I believe those are industry words, right?).
Jason explained to me over email that, "the shinier the finish the more imperfections you'll see on your wall. The Aura is very durable, the matte is just as durable as the semi-gloss, so you don't need the shine for more washability. It would only be for aesthetics." And thus, I went with the matte.
(Incidentally, you will remember how much I loathe the phone, so to be able to converse over email is awesome. But if you're not like me, you'll like that MyPerfectColor offers live, offline help, too.)
I put my order in, quickly received email confirmation that my order had shipped – and my paint arrived the next day. When I saw FedEx drive up to my house, I thought to myself, "That can't be the paint already!" But sure enough, it was.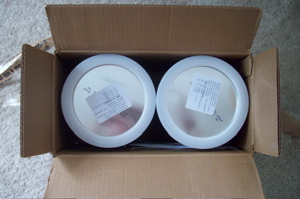 I am looking forward to seeing what my bedroom finally looks like freshly painted in Northern Air. I will be documenting the painting party – party of one (unless anyone wants to help?) – right here!