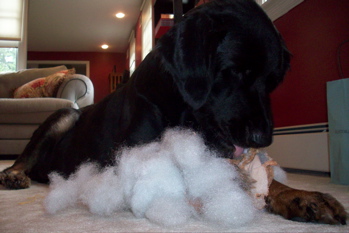 See the title of this post? That's, like, the daily mantra in our house.
As soon as we walk through the door, usually one of us will scope the downstairs rooms to see if anything's amiss.
More often than not, it usually ends up with one of going, "Oh, God…" And the other one of us just knows.
"What did Sethy eat now?"
We remember the infamous Seth-ate-a-box-of-chocolate-Luna-bars Incident of '07, right? That has promted us more than once, when out and about, to stop and say, "Oh no. I think I left (insert food product here) out on the counter/on the table/in the kitchen."
And again, we just know that we'll come home to a nice little treat in the form of food strewn about.
A few weeks ago it was old turkey lunch meat that he had gotten in the trash (he had to have actually opened it with his paw because it's a flip lid). Then it was leftovers my mom accidentally left on our counter.
Ryder, for her part, wants nothing to do with this. She looks at us as we kneel like idiots on the floor, like, "Well, don't look at me."
But anyway, yesterday I came home to find Seth taking his wrath out on an innocent Booda dog bone. When he saw me coming, there was no regard for the taboo-ness of it all. He just glanced up at me and kept going to town. Even when I got my camera.
So now, poor Booda has no more squeak, only half of a body, and about 1/3 of his stuffing.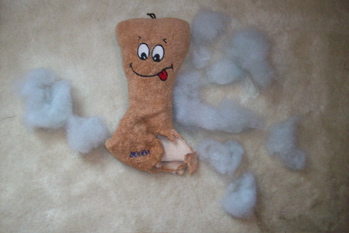 So that's what Sethy ate now. The question is: What will Sethy eat next?