I'm not really a big fan of the American Kennel Club. In my eyes, it promotes the idea that a dog has to be purebred to be considered worthy.
Worthy of what, I don't know… maybe recognition in general?
Worthy of being on some list, like the AKC's Most Popular Dog Breeds in America? Which serves to prove what, exactly? I'm not sure.
But such a list is sure to be picked up by a national news program for a segment that will inevitably put these "top breeds" in high demand… until the families who buy these dogs realize that having a dog can be quite a demanding responsibility, and give the dog up because it's just "not the right fit" or some other excuse.
Phew. I know I seem like I'm on a rant right now, and I guess I kind of am. It's stemming from this rather innocuous-seeming video I saw this morning on the Today Show:
I mean, really, just look at those puppies. PUPPIES! How could you not fall in love with those sweet, innocent, docile little guys?
#5: The Beagle

#4: The Golden Retriever

#3: The German Shepherd

#2: The Yorkshire Terrier

#1: The Labrador Retriever

And you watched the segment above, so you KNOW that all 5 of the breeds are GREAT for families! And TRAINABLE! And POPULAR! Who WOULDN'T want one!?
Now, full disclosure here: one of my dogs, Ryder, is a purebred black Labrador Retriever. And she is quite beautiful: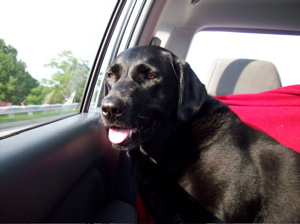 I didn't purchase her. She was one of a litter of purebred Labs given away for free, to good homes, almost 7 years ago. She came with AKC papers. I just didn't care. It didn't matter to me that she was registered with some club to prove that she was "pure." So I didn't register her. She is, and always has been, my sweet, loving, funny, adorable black Lab. I love her for those qualities, not any club-appointed "status."
My other dog is a big, 110-lb. mixed breed named Seth: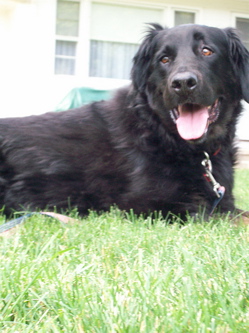 He has lots of hair. He's mostly black, with brown paws. He is silly, sweet, gentle, kind and sneaky.
According to the AKC, there is nothing "pure" about him.
To me, he is pure love and perfection. And again, to me, that's all that matters.
In fact, of the 5 dogs I have had in my lifetime, Ryder is the only purebred I've had.
Bismarck was a mix between a Rhodesian Ridgeback and who-knows-what-else. And he was my big, sweet, loyal, brilliant, brave boy. Pure? Again, pure love.
My childhood dogs – my "brothers" Cracker and Carmel – were littermates that we got when they were 8 weeks old. They had been abandoned. We have no idea what breeds they were a mix of. It didn't matter. They were our family members for almost 13 and almost 14 years, respectively.
My point is that yes, all puppies are cute, cuddly and pure sweetness. But people are going to watch segments like these, promoting the "top breeds" and think that they have to get them. And many are going to soon realize that those cute, cuddly, sweet puppies nip at things, and pee on the carpets, and bark at the mailman and – gasp! – grow.
And that's why there's a necessity for so many groups dedicated to the rescuing of purebreds. Those "great for families," "trainable," "easy care," "obedient" AKC-registered puppies that become, well… dogs. Dogs that some people, for whatever reason, give up on.
So I just wish programs like the Today Show would consider these things before they put such segments on their show. Dogs don't need to be purebred to be special. They don't need to be one of the Most Popular Breeds to be special. They don't need to be mixed breed to be special.
They just need to be brought into families that understand the love, responsibility, and commitment necessary when it comes to caring for them.