One of the good things about living back at home with my parents right now is that since they live about a mile from Audrey and her family – and Audrey's boys pretty much love nothing more than going over to Grandma and Pop-up's house – I get to see my nephews (or at least some combination of the 4!) nearly every day.
And while I know that you usually notice how quickly kids grow when you don't see them frequently, at times it seems that they'll leave just the room only to come back a few minutes later looking completely different. Looking like kids, not little boys.
This happened for me yesterday with William, Audrey's oldest, who will be 5 years old (5 YEARS OLD!?) in just 4 months. Audrey had to work on a few vlogs for 365 Days of Fashion Advice for Moms while her two youngest guys, Henry and Benjamin, were sleeping, so she brought Alex and William over to spend some time with Auntie Janie, Grandma and Pop-up.
When Alex and William come over, they love to play Webkinz on my parents' computers. So when they came over they darted right into the computer room. I was in the family room doing some work, while my parents read the Sunday newspaper nearby, when William walked in to check on what we were up to. As I looked up from my laptop at William, I couldn't believe my eyes. He looked so tall, so grown up… so much like a "big kid"… so different from that little baby boy I held in my arms for the first time just after he was born – a moment that does not seem so long ago.
It honestly made me tear up a little bit and I told him to come sit next to me on the couch. He came over and I took his little hand and told him, "William, do you know how much you're loved by everyone in this room?"
He gave me his big, wide, light-up-the-room smile – the one that I know is going to break the hearts of many girls hearts when he gets older – and said, "No." Ah, my stubborn little William – just like his Auntie Janie. But his smile gave away the fact that he knew exactly how loved he is.
So I went on, "The day you were born, we were all waiting for your Daddy to come into the waiting room and tell us your Mommy had had you. We couldn't wait to meet you."
And my dad chimed in, "When we found out you were born, we were so excited that we started screaming out loud."
William took it all in for a moment, and then asked, "Well, didn't you wake up all the other babies?"
You really can't get anything past that kid.
I released William from the love fest around him, much to his relief, and soon afterward Audrey came by with her two younger guys. So there I was, lucky enough to spend some time with all 4 of Audrey's boys at once, watching them play together and just be their adorable little selves.
As I like to do in most situations with my nieces and nephews (and, of course, my doggies, too), I took out my camera to capture the moment.
William gets a little camera shy, so I have to kind of trick him into letting me take his photo, getting him in a bit of a "stunned" mode: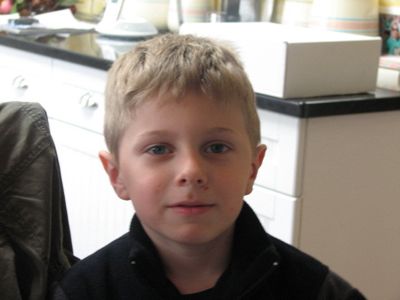 Otherwise, this is all he'll let me get: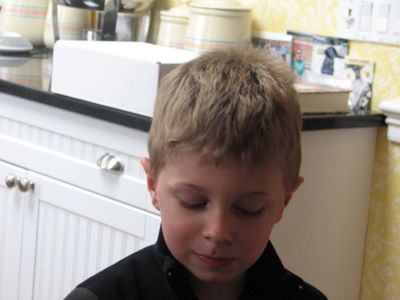 Alex was busy eating chocolate pudding with whipped cream on top:

… And couldn't quite understand why I was photographing him eating. "Why are you taking pictures of me eating pudding, Janie?" he asked, a bit annoyed: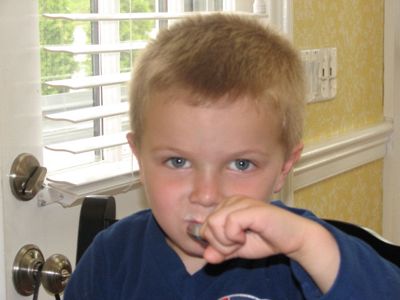 Benjamin was concentrating on his coloring very intently, and barely noticed the camera in his face:

… Until I called his name, he looked up, and I got his, "What doin', Janie?" look: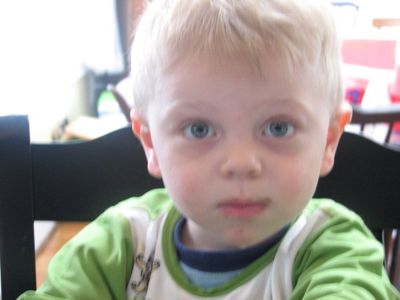 And then there's Henry… who really needs no further introduction than these photos, which capture his sweet, good-natured personality: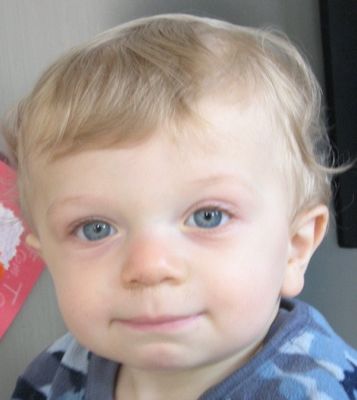 … And those cheeks that simply beg to be squeezed: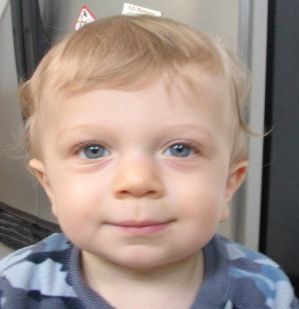 People tell me that in years to come, I will find myself grateful and appreciative for this living-back-at-home era… for the extra time it allowed me to spend with my parents, for the pleasantly unexpected experiences that came along with it.
The truth is? I already am.