My sister is the inspiration for today's 365 Days of Fashion Advice for Moms…
Today Jane is competing in Providence, Rhode Island's Ironman 70.3. I couldn't be more proud. I have seen her train for this race for 8 months. It's been amazing to see. When I saw her this morning race by on her bike… my eyes welled up with tears. It was an amazing moment.
As I was standing there… I kept thinking of Jane throughout the last 8-9 months of her training, every single day she either biked or ran or swam. So how am I bridging Jane's training to fashion? Well, the "fashion" maven that I am, I noticed that she would run and/or bike all the time in her yellow LIVESTRONG Nike tee. You couldn't miss her running down the street, that shade of bright yellow captured your attention a good 1/2 mile away!
Here she is in hers: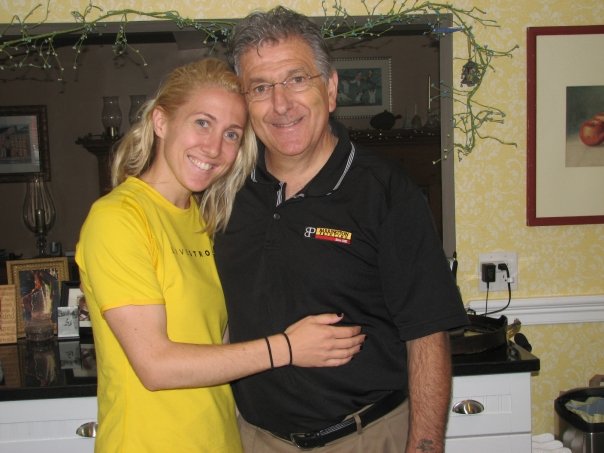 I loved it so much on her that got myself one… and I love mine.
So today's fashion advice — for any mother (or anyone!) out there that is looking for some amazing workout and training gear, check out the LIVESTRONG line at Nike. It's amazing. Comfortable. Form-fitting. There's 100% cotton tees. Dri-FIT tanks and tees. Zip-up baselayers. Running shorts. Knee shorts. And long sleeve tees. The perfect gear to train in. Everything is constructed with such extreme comfort and care, you can feel it. The selections are fantastic – there's something for every kind of season that you could or may be training in.
Not to mention — the best part — 100% of Nike's profits go to the Lance Armstrong Foundation.