I am asked this all the time… and I finally thought it was time to answer! 😉
GRAPHIC TEES for MOMS.
Fashion DO or DON'T?
In all honesty, this one depends. I love wearing graphic tees to the gym or to the beach or out to lunch; they are very cute to pair with jeans. BUT there are some tasteful graphic tees and then there are some not-so-tasteful graphic tees.
Here are some examples of tasteful ones…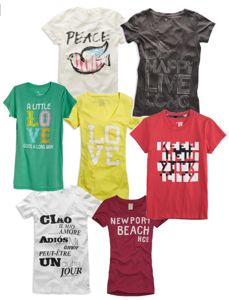 As you can tell, these are appropriate for moms to wear. They are fun, chic and simply stated.
Then you have these kinds of graphic tees…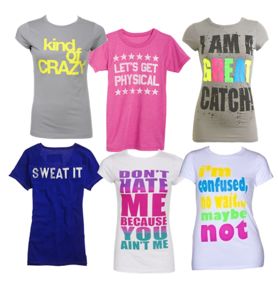 Yeah, can't see it being too appropriate picking up William and Alexander at preschool with a "I'm Am A Good Catch" tee on.
So really use your judgment when going after graphic tees. They can be a HUGE fashion DO if you choose graphics that are "motherly" appropriate.