Two years ago yesterday I lost my beloved dog Bismarck.
A few months ago I had unpublished this post about his life – and the sad, sad day of his death – because it goes into so much detail about stuff that's a little awkward to put out there now. But I'm going to keep it published again for a little while, because Bizzy was full of life and energy and happiness, and I want that to be remembered most. He was loved beyond words… and the end of a marriage he was a huge part of is not his fault.
Yesterday, I just wanted celebrate his life as I grieved the anniversary of his death. And that's what I did.
I've mentioned before that sunflowers are my "sign" from Bizzy that he is still with me. This is how it came to be… The evening we put him to sleep, I had to get out of the house. We had had a vet come to the house that afternoon. We had hugged Bismarck as we said good-bye for the last time. And had we buried him in our backyard. And I just couldn't spend another minute there.
It was a Friday night and most of my family was vacationing in the Hamptons. My parents had taken a ferry back home the night before to say good-bye to Bismarck and to just be there with us. They were preparing to take another ferry back to the Hamptons to meet back up with Audrey, my brothers and their families, and I knew that I really needed to get away. So off we went with my parents. Ryder came with us – her first ferry ride!
I was beside myself with grief, but when we got off the ferry and drove to our hotel, we kept passing fields and fields of sunflowers, and for some reason, it just made me feel better. Call me crazy, but I knew it was Bismarck telling me that those were my sign from him.
There isn't a day since July 27, 2007 that I haven't thought about Bismarck. And I truly believe that he sends me signs to let me know he's still with me.  Sometimes, at the strangest moments – just when I need it most – I will see a bouquet of sunflowers. Or a picture of one. Or someone will just randomly mention them.
Yesterday, I stopped by Audrey's house to say hello because I hadn't seen her since she had gotten back from BlogHer. Before I even reminded her that it was the anniversary of Bismarck's death, she handed me a bag that she'd brought home for me from Chicago. The bag had a huge sunflower on it: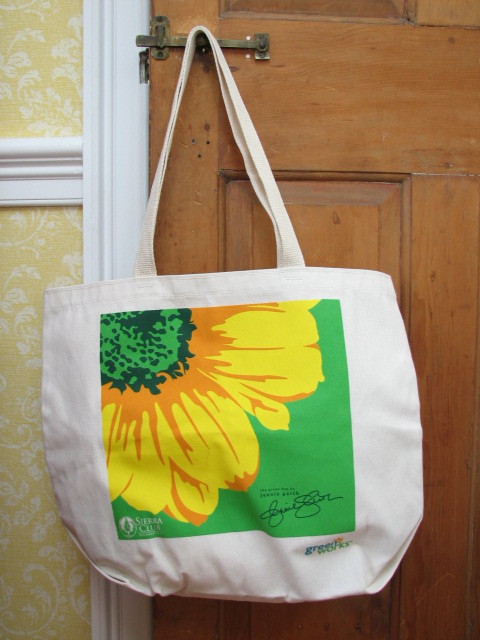 There were a few other sunflower sightings yesterday, too. Just for me, from my Big Boy, Bismarck.
I'm always looking forward to the next one.

Sunflower image courtesy of candy2nd