This is usually my problem when it comes to finding shoes… I have to take the boys with me. My husband works from home, so I have the boys during the day while he's working. I attempted ONCE bringing 3 of them with me to a local shoe boutique – let's just say, I will never do that again. EVER. It wasn't that the boys misbehaved, it's just that the last thing they wanted to do was follow "Mom" around the store while I searched for a pair of black heels. (Honestly, I don't blame them.)
So, if there's ANYWAY I can make my life easier when it comes to shoe shopping, I will try it and do it. Believe me, for shoes… I'll do just about anything!
I recently heard about this new online shoe boutique called MustHaveShoes. It's a simple, user-friendly site that – quite literally – takes the headache out of shoe shopping. I have been trying to find Riding Boots for a few weeks. I want a black pair and a brown pair. But, I need something that's not too high – I'm only 5 feet – and something I can wear over jeans. My search hasn't been easy.
So I tried MustHaveShoes to see if they could make my search a little less daunting.
All I did was search "Riding Boots" – and this is what popped up immediately: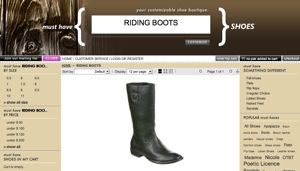 Think of MustHaveShoes as your personal style shopper… it will help you find shoes that meet your specific needs – regardless if you search by style, color or size.
Definitely check this out — MOMS, you will LOVE the ease of this!