Lots of women love to get massages or facials or pedicures… my "love" is to get manicures. I love being able to sit down for 30 minutes and just sort of drift away while someone makes my nails look pretty.
Truthfully… I don't get to do this very often. Even though there's a place about 2 miles from my house, being able to "get-away" to "drift-away" isn't the easiest of things to do with little kids.
Lately I've been doing them myself. UGH. SO NOT one of my favorite things to do. I am not good at polishing my right hand (since I'm right handed). They always look sloppy. And I've been contemplating asking my husband or sons to help me (just what they want to hear, right?).
One of my friend's suggested I get Sephora's Nail Polish Corrector Pen. So yesterday I went to the Providence Place Mall and bought one.
Cue the music.
You know when you find an item you can't believe exists and you didn't know about it? Especially one that will make your BEAUTY life easier. That's me with the Sephora Corrector Pen. I love it! Every single "mistake" I made yesterday while polishing I got to correct – in seconds! Not to mention I was using very dark polish – OPI's Lincoln Park After Dark… it's not usually easy to "erase" any mishaps/mistakes with this dark color — but I was able to make every mark disappear with the Corrector Pen.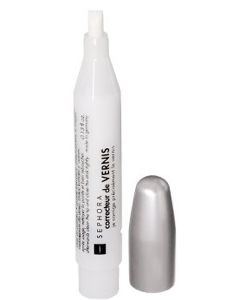 If you're a nail polisher… do-it-yourself type Mom… grab yourself one of these, you'll love it.