Sephora has partnered with the uber-amazing and talented Leslie Blodgett to bring to the world her first-ever fragrance launch this fall: the Leslie Blodgett Perfume Diaries. I have always been a HUGE fan of Leslie Blodgett… like most of you, I have only known her as the CEO and founder of Bare Escentuals. I love watching her speak. And I love seeing her passion for making women want to feel and look more beautiful. Her energy and enthusiasm are contagious!
So… when I heard about her new perfume line coming out, The Perfume Diaries, I was immediately intrigued! Leslie was inspired to create these fragrances from her trips around the world. She's bringing the memories back to life through these amazing scents. The first scent that will debut is called, Bare Skin. I just love the name of that one. I automatically think warmth, sun, bathing suits and summer. Leslie actually created Bare Skin to evoke the memories of being on the beaches of Mexico and inspired by her actual journal entries for that very trip. How beautiful is that?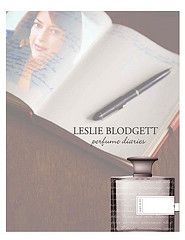 To capture the essence and magic of Bare Skin, Sephora has created a very cool contest. Sephora is asking women to create their own digital "perfume diaries!" We've all traveled somewhere in the world or experienced something on a trip that has moved us or inspired us or has made us deliriously happy, bottle that precious moment and memory and time… and bring it to life again through words and/or photos. What moved you? What scents remind you of that fabulous experience?
Move Leslie… allow her to feel and smell and taste and delight in your travel experience. Create your "Perfume Diary" entry and possibly get wisked away… the prize details are as follows:

– Grand Prize = (1) Grand prize winner and a guest will receive a luxurious vacation to Honolulu, Hawaii for 5 nights/6 days and a gift basket of Leslie's Bare Skin collection (approx. $2000 value)

– Second Place = (3) Second place winners will receive a gift basket of Leslie's Bare Skin Collection (over $100 value/each)
I wanted to create my own Perfume Diary. I thought back to a vacation that changed my life… for me it was my honeymoon. We traveled to Cabo San Lucas. It was gorgeous and warm and tropically-beautiful and the most relaxing vacation I had ever been on. It was a magical, romantic trip. We had no plans, we just went with the flow… doing whatever we felt like doing on that particular day. Whenever I think back to that week in July of 2001, I drift to the scents of coconut, lemon and pineapple. Those scents shaped that trip and have kept it alive more than photos and videos… it's the connection that sustains us.
Or as Leslie Blodgett writes, "Every note is a memory. Every spritz is an experience."
Contest sponsored by: