Kuru Footwear for the win. Fashion Advice on the Shoes (continued). Comfy Shoes. Relaxing Shoes. Get out there and walk/hike/play shoes. I've got 'em. I'm one of those women who needs to (literally) walk around in a pair of shoes before I can comment on them. I think it's only "fitting" to do so… otherwise, how can you really gauge the life and comfort and feel of a shoe? It's not fair to talk about a shoe without living in it!
Kuru Footwear
This past summer I got a pair of Kuru (called "World's Most Anatomical Active Footwear") shoes to try… specifically, Womens Black Rapid. I wanted something I could walk in comfortably. I wanted something I could dart after a little boy in – comfortably (if that's at all humanly possible). I wanted something appealing to the eye (come on, after all… I do like me some pretty shoes). And I wanted something that would last. If I'm going to be in these shoes, I want them to last.
When I got my Kuru Footwear … I have to say, I loved loved loved the look of them! Black with pink stitching… as if they were made just for me. Appealing to the eye – check. They slipped on easily. There aren't any laces, so sometimes you run into the problem of not being able to slip over your foot without performing-some-kind-of-gymnastic-move. I'm happy to report, not the case with the Rapids. I even sat down when I first got them, thinking it may take me a few shakes and pushes to get them on. Ahh… pleasantly surprised and happy.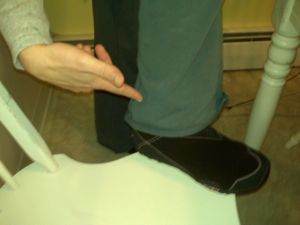 (Before a 7AM stroll with Henry around the block. Photo courtesy of my son William!)
But it's when they are on… and continue to be on… when I notice the COMFORT. It's funny, on the website the fit is described as a "relaxed fit"… truthfully, that nails it to a "T." The fit is a snug, relaxed fit. Almost as if the shoe contours to your foot. You're totally going to laugh at this, but I described them as "Spanx for the feet" to my mother the other day. That's how cozy and "in-place" they are. And these babies can haul. I'm not kidding, my feet get quite the workout throughout the week. I'm at home. I'm at the park. I'm running errands throughout town. I'm strolling down Main Street with my boys. I'm carrying Henry down to the local coffee shop. I'm even raking (OK, sometimes…). It's remarkable that my Rapids have been able to keep up with all that and then some. There's not many shoes you can say that about… at least not without damaging or ruining them – especially on the raking in wet leaves. (*The Rapids are water and stain resistant!) Not to mention you can take these anywhere because they have collapsible uppers. Meaning – I can wear my high black boots to a meeting all day long, crush my Rapids into my work tote and then as soon as we're moving to dinner and drinks… slip them on under the table. HEAVEN.
Why Kuru Footwear
And there's more than just that Rapids! You can find shoes at Kuru Footwear in these different categories… Womens Shoes , Mens Shoes , comfortable shoes , extremely comfortable shoesand so much more! You will really love the different selections for you and your family. Plus – talk about fabulous customer service – there's a 100% Free Exchange policy.
And then there's the technology… and to be honest with you, I couldn't do it justice. Kuru Footwear has a very cool and easy to understand YouTube video on their site explaining the beauty and genius behind all Kuru Footwear – super comfortable! Highly suggest Kuru Footwear !!