A little while back, I wrote about #7 on my List of 57 in 52.  I said,  "I want to ice skate in white figure skates at the Ice Rink at Rockefeller Center in New York City. I want to wear tights and a twirling skirt (not too short!)… and I wish to do this with my two granddaughters, Taylor and Maddie. This is the best part of all, I think… to fulfill a childhood dream with my 2 granddaughters!"
Yesterday, sharing the space the with the traditionally magnificent Christmas tree, the famous bronze gilded statue of Prometheus and hundreds and hundreds of other people from all over our country and all over the world, my dream came true!  I skated in white figure skates with tights and a not-too-short twirling skirt with my two granddaughters, Taylor and Maddie… and Barry!
I had put the dream in motion the moment I wrote about it.  That's the interesting thing about writing it down.  The motion travels very quickly from your head to your hands to your heart.
I then wondered, "Where on God's great earth am I going to find 3 not-too-short twirling skirts?"  I mean… I knew it would be cold in New York City.  I knew each of us would most likely fall at least once.  (We did. And I have a video clip to prove my great fall!). And this isn't pole dancing, folks.  No bootie shorts here. No bootie required.  Indeed. So I turned to eBay, where I found, over the course of many weeks, two beautiful and IDENTICAL girls' black GAP not-short-at-all twirling skirts for my granddaughters from 2 different eBay sellers.  Ah, it was a sign!
All the while, I was searching on eBay for the seemingly impossible-to-find ADULT not-too-short twirling skirt as well.  Well, I not only found one, but I found a VINTAGE one… black corduroy, red silk lining, with a lovely red "ice skating lady" applique… not-too-short twirling skirt for myself. I know my angels were helping me with this one because the skirt reminded me of my childhood little felt skirt with the white ice skate applique… and not only is my "new" black vintage skirt perfection, but I found a little black & white photo of that little California girl in that little felt skirt with the ice skate applique.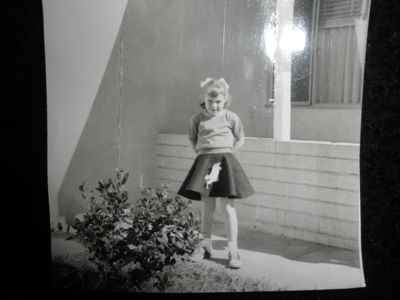 Next, I found 3 pairs of extra-long black leg warmers to go over the tights.  A little more protection can't hurt, right?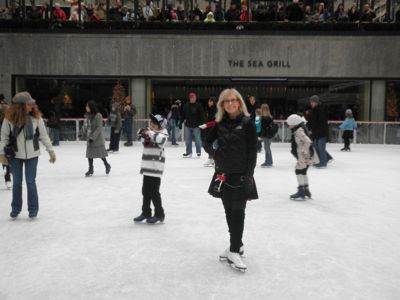 Barry and I wrapped up a photo of an Amtrak train and a photo of Rockefeller Center's Ice Rink… with the twirling skirts and leg warmers… and gave them to Taylor and Maddie on Christmas Eve with the promise of taking them to NYC early Monday morning.  The joy?  Priceless.
The adventure?  Magical.  From the moment we boarded that 6:55 am train ride from Providence to NYC, it was a magical dream.  The weather was glorious… winter perfect.  The people in our l-o-n-g line waiting to get onto the ice… people perfect.  And then the ice.  The dream of sliding onto that famous Ice Rink at Rockefeller Center, holding the hands of our two beautiful granddaughters, all in our black not-too-short twirling skirts and tights and leg warmers… well, I don't think Prometheus himself has never felt that kind of fire in his heart.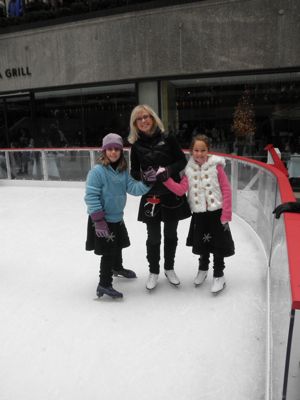 It was a dream come true.  It was a dream that took 50 years… but that made it all the more magnificent.  All the more wondrous.  All the more perfect.  It seems that Time wanted me to have two granddaughters to understand just how important dreams are… and now as I cross off #7 of my 57 in 52, I thank Time for its great, great gift.