DIY projects!
The first time I ever heard the name Matt McClelland (my husband) was in college. I knew of my husband before I met my husband. I had become friends with a few guys and couldn't get over how cool their dorm room set-up was. They had taken an average dorm room and turned it into a virtual duplex. I'm not kidding… when you walked into this dorm room, it was split level. On the "first-level" 2 beds and on the "second-level" a living room (all with a cool ladder to get up there). It was the wildest thing I had ever seen… when I asked how they did this, they responded, "We didn't. Our friend Matt McClelland built it."
Interesting man this Matt McClelland…
I'll fast-forward the part where we finally met, dated, fell in love and got engaged. That lands us in NYC circa 2000.
When we first moved to NYC all Matt and I could afford was a TINY (TINY) studio apartment. The first thing Matt did when we saw the place was say, "I'll build us a loft." And he did… and it was PERFECT!
Then we moved to our next apartment and he built shelves, a closet and a gorgeous light fixture… and he created drapes from discarded Donna Karan fabric.
And then we moved to a house in Rhode Island – where the "building" fun could really begin. With 2 little boys, the first thing we needed were sturdy gates. He built them for both the top and bottom of our staircase.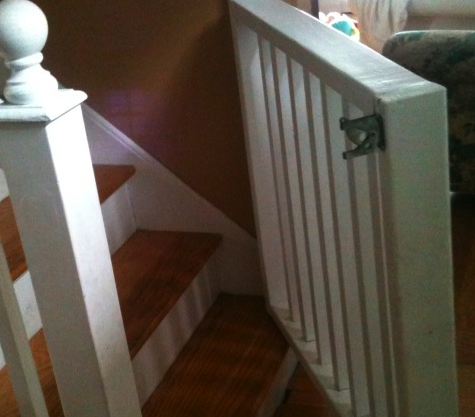 Well… recently the boys have been begging to all be in the same bedroom at night. One of their friends has bunk beds, so they started asking us if they could PLEASE get bunk beds. William and Alex share a room already, but Ben wants in on the bunking action – so… Matt said, "I'll just build them bunk beds." (insert eye roll) I knew he could…. but really? Build them? DIY? My husband… who never ceases to amaze me has begun the process. Bunk beds for 3? … On their way…