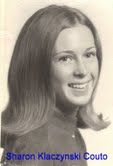 40 years.
The big 40.
It seems almost impossible.
I could stop right here. Or I could write forever. I think I'll shoot for somewhere in-between.
So. In August 1966, after my Dad had retired from the Navy, I moved with my family from the very small town of North Hampton, New Hampshire to the very big city of Warwick, Rhode Island. I had just about one week of adjustment before I was bumping along Post Road on a school bus on my way to my first day at Lockwood Junior High School. I was frightened out of my wits. My "old" school, a K-8 elementary school, was small and intimate, and everyone, everyone knew everyone else. All of my friends were back there in New Hampshire. There were less than 50 pupils per grade and I had looked forward to being an 8th grader, at the top of the heap, since I had entered the school in grade 4.
(Let me go back a bit… I was in Kindergarten in Brighton, Massachusetts and in grades 1-3 in La Mesa, California.)
So back to the bus ride. I was 12 years old. I was all alone. My older brother, a high school Freshman, was on his own bus to Warwick Veterans Memorial High School and my younger brother was heading to Potowomut Elementary School. I don't remember what I was wearing that day. I don't remember who sat next to me on the bus. I don't remember the weather. All I remember is the bumpy bus ride and pulling into the back parking lot at Lockwood… and seeing lots more buses hundreds of kids. At that moment, I remember wishing to be invisible. I had no idea which door to enter. I had no idea where my first class was… never mind the HOMEROOM thing. (We didn't have HOMEROOM back at my old school, and even if we did, I had been selected as an 8th grade Hall Monitor, one of the most prestigious positions in the history of the entire world for an 8th grader at North Hampton Elementary School, and I knew every inch of that school.) I remember getting off the bus. I remember standing, silent. I remember getting into a line behind a bunch of happy, giggling girls and entering the abyss of Lockwood Junior High.
My entire life had changed.
I wish I could say that those first few moments of terror were temporary. They weren't. I got lost that day wandering those big old halls of Lockwood. I had nobody to walk with or to eat lunch with. I had nobody to whisper to or pass notes to. It was the very first time I had ever been seated alphabetically (there was no need for this at my old school because… remember… everyone already knew everyone, even the teachers.) I realized on that day that having a last name that began with a K was interesting because it's letter #11 in the alphabet… and, generally, I ended up in row 2 in one of the back seats. This was very good for my new invisibility. It was also the first day ever of my entire life that I developed a headache. A severe headache. I thought I was dying. I remember being frantic that I would miss my bus home. I didn't. But that bumpy bus ride home along Post Road, with my headache, was the longest ride of my life.
This was my introduction to Warwick, Rhode Island.
My parents did everything they could do to convince me that things would change. They reminded me of all the things I loved about school… theater, sports, debate, public speaking, oratorical contests, dances, talent shows. But things didn't change. All of the things I did love about school did not exist at Lockwood. Lockwood was the bumpy ride there and the bumpy ride back home. I do remember having wonderful teachers there… one was Mr. McElroy, a Social Studies teacher who reminded me of my teachers, like Mr. Peck and Mr. Mawson, back in New Hampshire. Mr. McElroy was fiery quick and smart and engaging and interesting. I loved his class and I loved his passion for teaching. Decades later, Mr. McElroy would go on to become the President of the American Federation of Teachers. It was Mr. McElroy who made an invisible 8th grade girl at Lockwood Junior High wish to become a teacher herself some day. I had Mrs. Jusczyk (sp) for Algebra I. She, too, was quick of wit and engaging, although I hated mathematics then and I still do today. (I know I'm jumping ahead a bit, but I married a math teacher and never had to worry about mathematics again!) But I never fell in love in Lockwood.
September 1966 turned into June 1967. June 1967 turned into September 1967. It was time for Warwick Veterans Memorial High School. I had come to love my neighborhood… that little part of Potowomut after the old Jolly Jon's where you would take a right turn onto Potowomut Road after the railroad bridge at the big tree that isn't there anymore. It was a neighborhood of mostly guys… with a few girls. The guys were my older brother's age and they became my friends, too. Dave Amato, Tommy Wright, Bobby Piscopio, Chico and more. The girls… Jane Denning, Evelyn Tally, Sue Girard and, for a short time, the Gregory family with Renee and Susan. That section of Potowomut in Warwick was a cozy, safe little haven, but we were close enough to ride our bikes to Goddard Park to play baseball or swim at the little beach, or head to East Greenwich to buy candy at the little convenience store on Main Street. I thought high school would be so much easier… knowing all of these people whom I would see every day, all over the school… in the halls, in classes, at lunch, at after-school activities.
Maybe everything would change at Warwick Veterans Memorial High School. I was 13 years old by then, plenty old enough to take whatever came my way. I remember picking up my Freshman schedule at the Post Office in East Greenwich… exactly where the Post Office Cafe sits today. Because we lived in Potowomut, we used the East Greenwich Post Office and zip code, meaning back then that mail arrived a day later than the Warwick addresses and zip codes. Anxious to get our high school schedules, all we had to do was show up at the EG P.O. and get the mail. When I got my schedule, I immediately called all of my friends to compare classes. Yep. This high school thing was gonna be a breeze.
Again, on that first day, I remember the bus ride all the way to Warwick Vets. A half-hour or so. I remember getting off the bus in the circular drive in the front of the school and being herded inside. I remember thinking that I would never know my way around all those wings … A, B, C, D, F (was there even an E wing?). I remember panicking when I realized there were 5 lunches. What if I didn't know anyone at my lunch? I remember the loud speaker and the daily notices and all the upper-classmen and cheerleaders who looked so comfortable and cool and confident. I remember seeing guys walking around in large white sweaters with great big blue W's sewn on them… my introduction to Lettermen. I gripped my schedule and maneuvered through the halls with the other couple'a thousand students at that great big school on that late end-of-summer morning.
I wished to be invisible again. I knew some kids in some of my classes, but the classes were also sprinkled with upperclassmen and with kids from the other junior high in the city. None of my neighborhood friends were anywhere to be found. I again was placed alphabetically somewhere in row 2 in most of my classes…
And so my Freshman year began.
I never really loved high school. I didn't hate high school. It seemed to me something to get through. I loved Freshman English, but I don't remember my teacher's name. She had us read The Bounty Trilogy, which to this day remains a favorite of mine. I sat right in front of Alfred Liddle and thought he was the most brilliant person I had ever met. Truth be told, I had a 4-year crush on Alfred (never told this to anyone, ever.) I loved Miss Petrella for Senior English because she was very smart and very funny. She kept me after school one day to tell me she loved my essays but wished I would participate more in class. How could I? I was invisible. I loved Mr. Desmond for Public Speaking because he was so beautifully caustic. I will always cherish what he wrote in my yearbook because he saw past the invisibility that I had come to be so comfortable with. I remember Mr. Galli and the hockey plays and diagrams that he drew on the chalkboard… and I remember the only time my parents had to come to school on my behalf, involving Mr. Galli. He gave our class one test during the first quarter, on which I received an A. On my report card, Mr. Galli had issued a C. I was outraged and told him so. He changed my grade to an A when my parents came to chat.
I remember my Typing class. For once I sat right in the front row, which was very disturbing because I couldn't get the hang of the fast-typing thing and the teacher could see everything I was doing wrong. We each shared a table with another student, and mine happened to be the funniest kid I had ever met. Anthony Viti. Maybe I couldn't type because I was laughing so hard. Typing is the class I remember most at Warwick Vets. 40 years later, I still remember Anthony's comic delivery.
I remember counting how many different outfits… expensive ones… that my Geometry teacher, Mrs. Laurence, wore. I remember that Miss Simons always had perfect hair. And I remember an incident in gym class where I served a volleyball way up high, high enough to break open a light cage that shattered to the floor… only to be accused of trying to kill the opposing players. I wasn't that good at volleyball.
I tired out for the football cheerleading squad. Denied. I tried out for the basketball cheerleading squad. Denied. Ouch. In retrospect, experiencing that level of rejection at such a tender age shaped my future. I realized that life goes on. After all the tears, of course.
I got stopped in the hall once by Mr. Crawley. He motioned for me to get out of line and then just pointed at my skirt… or, shall I say, culottes. I knew what he meant. Pants of any kind were not allowed at school back then and I was pushing the envelope with my wide culottes (that looked like a skirt, by the way). Finally, he said something about breaking the dress code and following rules and calling my parents to come get me… and he directed me to his office. I didn't feel particularly invisible at that moment, sitting with this Assistant Principal, and I told him my theory about culottes being far more modest and versatile than skirts and that some day girls would be wearing pants to school. He listened to me. He really listened, then he said that girls would never wear pants under his leadership but agreed with my culottes theory and sent me to class. By senior year, girls were wearing pants to school. Under his leadership.
I thought high school was the ultimate class system, guy athletes first and top of the list. Guys first, girls second. I had come from a school in New Hampshire where the girls played interscholastic sports in 6th, 7th and 8th grade. We traveled on buses and collected wins and losses and competed like the boys. At Vets, the girls had few choices. At least I saw it that way.
But I remember the dances. The Sadie Hawkins Dances. The Valentine's Dances. The Letterman's Dances. The Proms. I remember the wrist corsages and mini-dresses and prom gowns. I sewed all of my own dresses and gowns and skirts and culottes back then. I remember long, straight hair and black eye-liner. Saturday football games. Friday night basketball games. (Even though I did not make the cheerleading squads, I still went to the games!) I remember the bonfires and pep rallies and the voice of Mr. Rallis. I remember getting a job at Midland Mall at The Country Store, selling popcorn and penny candy. I remember breaking up with a high school boyfriend because of that job. I remember Group Guidance classes and thinking, "Why?" I remember double sessions senior year and just about everything changing…
Then I blinked and it was June 1970.
I went to Rhode Island College to become an English teacher and I never looked back at high school.
Well, I did look back once. During the summer before my senior year at RIC, I worked at Bulova Watch Company, right off Rt. 95. I was a piece-work inspector of Polaroid Camera components. I worked with a girl who was a full-time employee and we became friends enough that she invited me to her wedding. The reception was held at Rocky Point Paladium and I was seated with a bunch of younger people. One of the guests at that table was Mike Curci. We talked. We laughed. We danced. Then he asked me the million-dollar question: "So where did you go to high school?"
I answered, "With you. I graduated from Warwick Vets, Class of '70."
Mike was embarrassed. I wasn't. He had been a super-star. Class President, Football Team, Wrestling Team, Committee upon Committee and he drove a totally cool sports car… there is nothing Mike didn't do or have in high school. I had blended in, as I called it by then. How could we have crossed paths in high school? We went out to dinner a couple of times, and to lunch a couple of times… and talked and talked and talked. I discovered through Michael that there was more teenaged angst in being popular and having expectations put upon you than those of us who were invisible. Mike was incredibly sensitive and astute and kind… and for the first time in my life I felt that I had judged someone unfairly for all of his high school "loftiness." We became friends. I was looking for a job for the winter and Mike introduced me to people he knew (he knew a lot of people in Warwick) for a waitressing position, or lifeguard position at an indoor pool. I actually got a job as a cocktail waitress at the old Colonial Hilton in Cranston on Mike's recommendation. (I had to wear a short, red can-can uniform with frilly white panties… but the tips were incredible. Good lesson.) It was while working a lunch shift, serving businessmen their afternoon cocktails that the news came over the bar television that a local young man had been killed in a car accident. It was Mike Curci. I cried a river that day. I cried for a friendship that had just begun with a boy I could never have understood back at Warwick Vets. As I type this tonight, I am teary-eyed for Mike's life cut so short… so tragically. Mike Curci has always been a presence in my life for remembering to be a non-judgmental person.
My parents still lived in Potowomut, but in August 1975 my Dad died suddenly and unexpectedly. I had an apartment in Providence, but I spent lots of time in Warwick helping my Mom. I got married in August 1976… and then I made that journey all the way over to the other side of the bridge. My husband, Barry, grew up on the East Bay and soon we had moved my Mom over to the East Bay, too. We lived in Rumford for a couple of years. Then we moved to Barrington, where we raised our family. When our youngest daughter graduated from high school, we moved to downtown Bristol.
Warwick was a distant memory… a place I had passed through to visit our two sons at URI. Our daughters both went to Brown, so no need to travel down that path until they each moved to New York City. I attended my husband's 10th, 15th, 20th, 25th, 30th, 35th and 40th reunions from East Providence High School. His friends were my friends. My life was on the East Bay.
Then, in 2003, my husband moved our family business, Barrington Printing, to Cranston. What? The West Bay?
We had 3 grandchildren by then. One son lived in Rumford. Another son lived in North Kingstown. One daughter was finishing up at Brown. And another daughter had decided to move from New York City to Rhode Island with her family… and settled in Cowesett. I had retired from teaching. And Barry was doing all the commuting from Cranston to Bristol.
We thought. We decided. We moved. To Warwick. Right on the Warwick/East Greenwich line. At first, I couldn't quite get comfortable over here. I missed the feel of the East Bay. I felt like a stranger.
But then memories began to creep in… soft little memories. Like riding my bike in Goddard Park. Skipping stones across the calm beach at Goddard Park with my grandchildren. Running along the harbor where my Dad had kept his boat so many decades ago. Watching my grandsons skate at Thayer Arena and turning to Barry in almost disbelief… saying, "I think this is where my high school graduation was held." I rediscovered the South County beaches here … just as beautiful as Newport's beaches. The sidewalks and busy shops and the convenience to the highway that used to bring me right past here. Last Saturday, I watched in awe as 2 of my grandsons wore their Apponaug t-shirts to Opening Day baseball ceremonies. And we moved my Mom back to the West Bay.
I feel home. I feel home.
I feel ready to be at the 40th Reunion from a high school that just happened to be the one I landed in when I left a place I loved at the very formidable age of 13. Now I know it was my longing for the familiar and the known that so upended me way back then. But it made me who I am… and I'm OK with that
40 years.