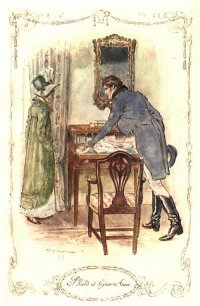 I'm a sucker for a good love story. I have read and re-read my favorite Jane Austen novels, getting goosebumps each time I get to their happy endings. I can't read Persuasion's hero, Captain Wentworth's, letter to Anne Elliot without tearing up, especially this passage:
"You pierce my soul. I am half agony, half hope. Tell me not that I am too late, that such precious feelings are gone for ever… Dare not say that man forgets sooner than woman, that his love has an earlier death. I have loved none but you… For you alone, I think and plan."
Sigh.
I remember reading Persuasion (again) last July, and (again) getting that lump in my throat as I read those words. But at that time, I was a bit fragile. I was going through my divorce, ending a marriage in which, frankly, there was never that kind of love, that passion. I was also kind of seeing someone who made me happy about 10% of the time and miserable the other 90%. Also, I suspect he was lying to me about 110% of the time.
It finally hit me that I was getting emotional over a work of fiction. While, yes, those words were beautiful and touching, they were written by a woman. These were the words we, as women, wanted to hear, but we had to rely on fictional men to supply them. I became jaded, began to believe that as women, we were our own worst enemies, creating these ideal men who did not exist in the real world. I started to lose my faith in happily ever after.
And then I met Brian.
Our love story would take a little bit of time. And a little confusion on my part. Like, who was this guy who seemed to just genuinely enjoy my company, and found things in me endearing that used to annoy my husband to no end? Confusion in this guy – this friend – who told me that if I needed a ride to my divorce hearing, he could bring me, keep me company because he knew it would be a rough day. This guy who did all the planning for our first date that night of my divorce hearing to "get your mind off things", as his email said.
I really, really liked him, but I was planning my move to New York City. I would be gone for at least 2 years, so I tried to stay guarded. I had made up my mind to leave and start a new life, and nothing was going to stop me. Brian never did try to stop me, either. Even when I couldn't stay guarded any longer, and I knew I was in love with Brian, but still wanted to move to NYC, he wanted me to go, too. To find myself. To be happy. (I have never, for one moment, felt that Brian wants anything but happiness for me.) He would wait for me while I was away.
So off I went, to the big city. I started my new job, made some new friends, reconnected with old ones. I took care of myself, really for the first time in my life. But I missed Brian terribly. And of the time that I was in the city, I think I only stayed there for two weekends. I made it a habit of leaving the city on Friday evening, getting picked up very late by Brian at either the train or bus station in Providence, and having a whirlwind, but wonderful 40 or so hours with him.
By nature, Brian is more of a right-brained guy. He's more mathematically inclined than anything else. I am more of a left-brained lover of words, while Brian isn't as much, but he is nevertheless the undeniable hero of my love story. One who surprises me with his beautiful, perfect words every so often, like one day early on in our relationship when I teasingly texted him after we had been out with some other people, asking if he was interested in any of the girls we were with, to which he responded: "Just Jane and only Jane."
If Jane Austen had been around during text messaging, I think she would have found those words worthy of literary recognition.
If you know me, or have read this blog before, you know that I ended up coming home from New York City after 6 months. When I told my boss that I was leaving, I was very scared that he would hate me, but instead he asked if everything was OK. I told him that things were better than OK. I was in love and wanted to move home to be closer to my boyfriend. And my boss smiled and said something like, "You know, we work because we have to work, but our personal lives are what really matter." He told me he was happy for me and wished the best, and I couldn't have been more grateful for his kindness.
On my last day of work, Audrey and my mom were in the city for an event honoring R Baby Foundation. Brian had already helped me move everything out of my apartment the week before, so all that was left to complete my move home was for Audrey and my mom to pick me up at work and drive me to Rhode Island.
When they picked me up and started driving, I began to feel really sick. I think it was just maybe just the release of all the changes around me, but also the fact that I was starving. We ended up stopping to eat dinner in Connecticut and I sat at the table, pale and feeling like any minute I was going to throw up. Audrey sat across from me, doing something on her iPhone while I tried to force food down my throat. Once I did, I started feeling better, and soon Audrey reached across the table and handed me her iPhone.
"Read this," she said.
It was an email Brian had sent her back in September, right after I moved to NYC, and it said, in part:
"I know it's sad that Jane's leaving, no one wants her to leave, but for the short time I've known her… she needs this change. I'm not going anywhere, so when it's time, I will bring her home, to you and your family."
Sigh.
I still get a little teary-eyed reading it. And this time, it's not a work of fiction, it's my own real love story.
It was time, after 6 months. And Brian, my hero, brought me home. I am so very happy he did, and I am so very blessed to have him.