It's official – it's impossible to not look like a complete dork in a wetsuit.
Case in point: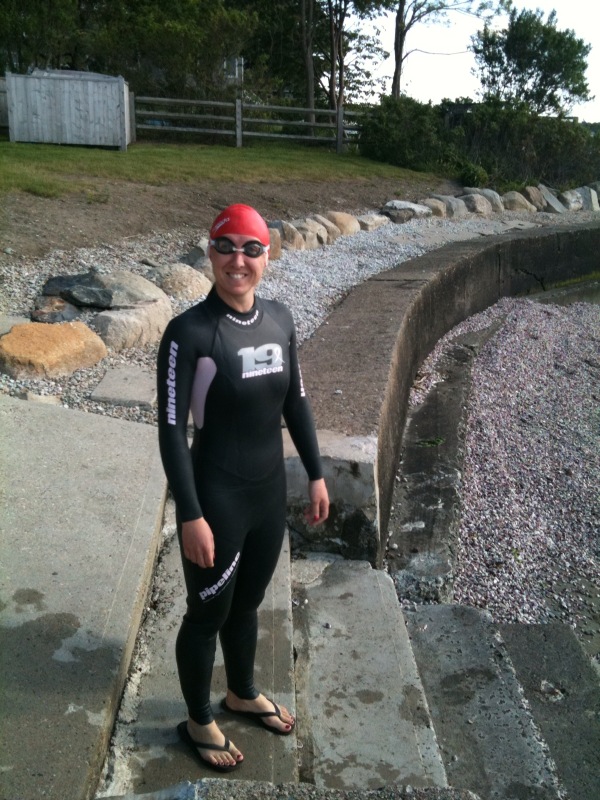 It's cool, though. When I'm out there training or racing, looking stylish isn't the main goal (though, I am partial to freshly-painted nails and toes); it's having fun and doing my best.
This past weekend, with 8 weeks to go until Ironman 70.3 Rhode Island, I wanted to get a little bit of everything (swimming, biking, running) in.
First up was biking and running. I "slept in" until 6:45am (according to Brian –  he who wakes up at 5:40 every morning) and left his house at 7:15 so I could be at my parents' house by 8:00. I changed into my biking gear and got all of my fuel together as Dad put my bike into my car. And then I was off to meet my group.
*I would be unceremoniously dropped from the group, by the way, if I didn't mention them here. Especially Curt. He would be TERRIBLY disappointed if I didn't post this picture of all of us at the halfway point of our ride: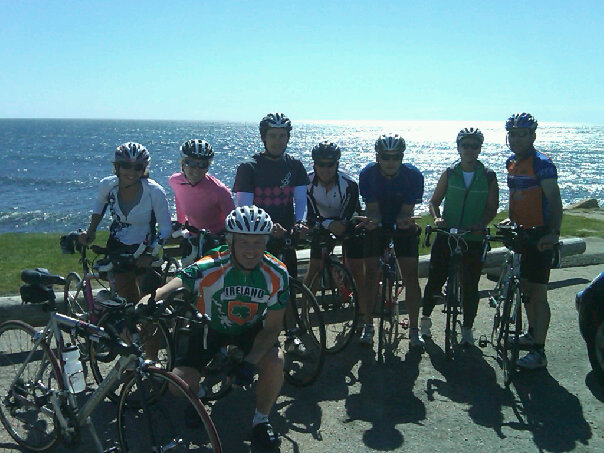 After riding about 30 (windy!) miles, a few of us went for a 3-mile run in order to get a brick (bike/run) workout in. I feel very lucky to have found a group of people who not only love to do the same things I do, but whose company I genuinely enjoy. Obviously, that can play a key part in staying motivated with your fitness goals – having great company to work out with.
On Sunday, I wanted to get in the open water for the first time this season, just to get a feel for it again. I've been doing some (not enough) swimming in the pool, but it's much different swimming in the open water… like when put your face down and you can't see anything in front of you.
It was warm enough that with my wetsuit on (note to self: don't forget the Body Glide next time) I was actually hot on the beach (temperature-wise. I have no illusions about looking hot in my wetsuit. See above). Once my toes hit the water, though, it was a different story (read: chilly!).
But the wet suit kept the rest of my body warm as I made made my way out to deeper water. I swam the distance between two buoys a few times, just to see how it felt to be in a wet suit, outside of a pool, again, and that was it. Oh, and I had an excellent swimming partner in Tansy: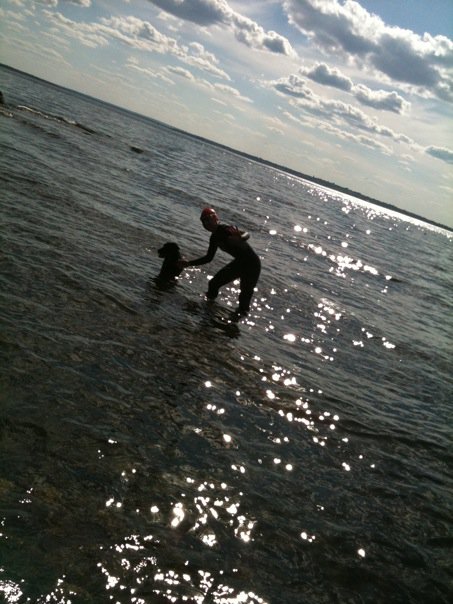 A little later that evening, I went for a 10+ mile run. I felt really good for the most part, although my left shin has been giving me a little bit of trouble lately. I maybe shouldn't have run so far, feeling that little twinge in the shin, but it was perfect running weather – not too hot, not too cold, just enough wind. Damn runner's high! I may take it easy on the running for the next few days, and ice, ice, ice, to see if it does it any good.
So, all in all, it ended up being a good weekend of working out, capping off a week of pretty steady training:
Monday, 5/10 – 5.09 mile run in 41:17 (8:06 min/mile)
Tuesday, 5/11 – Nada
Wednesday, 5/12 – Abs class + 1 hour Spin class at the Y + 1800 meter swim
Thursday, 5/13 – 5.15 mile run in 41 minutes (7:58 min/mile) + 5 mile run in 38 minutes (7:36 min/mile)
Friday, 5/14 – Nada
Saturday, 5/15 – 30 mile bike ride + 3 mile run
Sunday, 5/16 – Short open water swim + 10.42 mile run in 1 hr 25 min (8:10 min/mile)
Oh, and I lost a lb. Yay!
What are you training for? How is it going?