I don't usually get too excited about makeup cases… but in this case, I am.  I think this is incredibly cool – not only for the moms, but for the daughters, too!
Introducing Stila's The Makeup Player…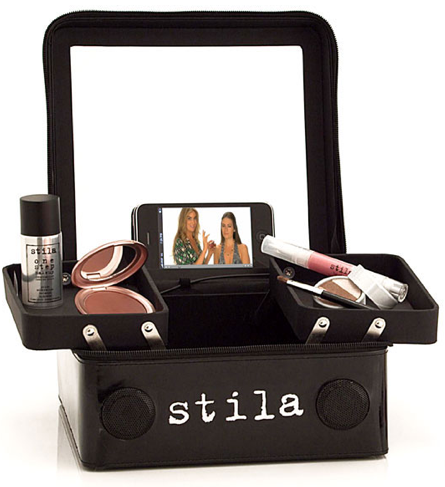 ---
I usually put my makeup on in my bathroom (like most women, right?).  I usually bring my laptop upstairs with me and turn-on iTunes.  I like to have some music to listen to while getting ready in the morning.  I've always been that way, even way back in middle school.  I love pumping Michael Jackson and Paula Abdul throughout the upstairs from my boombox, remember those?  Mine was about 2 feet long and red.  It was styling!
Well… I've parted with my boombox.  And now it's time to part with my iTunes.
Stila's The Makeup Player is AMAZING.  You have the actual makeup train case… but then you add in the media player and speaker system.  It's very 2010 fashionable.  So you're not only carrying your makeup – but you can also download and watch FREE beauty lessons or listen to your music.
They come stocked with makeup, too.  The makeup choices are broken down my skin type – fair, light, medium, dark and travel makeup.  You can't go wrong with this set-up.
I bought the MEDIUM one for the summer – it comes with:
One Step Makeup Foundation – Medium
Primer, foundation, concealer and powder in one! ONE STEP Makeup combines four complexion products with 100% Mineral Pigments to deliver one revolutionary, high performance, high definition, long wearing, complexion perfecting product.
Eye Shadow Trio – Neutral Trio (and #7 Eye Shadow Brush)
Three shimmering bronze eye shadow shades – base, crease and liner – and an eye shadow brush create a complete and completely gorgeous eye look.
Convertible Color – Rose
Cream-based cheek color melts into your skin to give you fresh flush of youth.
Lip Glaze – Grapefruit
Give your lips a splash of high-shine color with our iconic ultra-moisturizing, sweetly scented lip gloss formula.
The kit also includes:
Information booklet
Instruction card
Instructional DVD
Batteries