Since becoming a mother, I have become much more aware and concerned about sun damage on the skin of my children, my husband and myself. It's so important to keep yourself protected against the sun… I'm one of those moms that lathers my children from head-to-toe (along with myself) throughout the whole day at the beach and/or the pool. I'm a stickler for that.
Recently I received information on Coolibar, they offer clothing that is sun-protected. I was sent a few items to try out… a Ruffle-Edge Ribbon Hat, a Swim Skirt and a Ruche Swim Shirt. Now… I want to add here that I have never worn sun-protective clothing before – nor have my children or my husband. I wasn't sure what to expect. Would it really work? Would it feel too heavy on me at the beach… especially on an extra hot summer day?
Let me tell you about these items… (Because they do work and they are awesome!)
The Ruffle-Edge Ribbon Hat is incredible! I have worn this to the beach a dozen or so times now. It's perfect for me.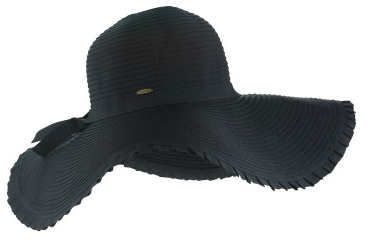 What I loved most about this sun hat was the coverage. It truly kept the sun away from my my eyes, all while protecting my head (rated UPF 50+). The texture on this sun hat is gorgeous, too. The fashionista in me loved it. It really is a statement hat… you could wear this on the beach, and then to a summer picnic, it's that classic and that fabulous. It's also a crushable hat, so I don't have to worry when my 4 sons "lean" on it, it's easily put back into shape. I can't say enough about it… I love this hat! It's almost remarkable to think that in addition to it's style, it's also sun-protected.
The Swim Skirt was an item I knew I would get a ton of use out of. We belong to a pool club in the summer, and I'm constantly running after the boys – William has swimming and tennis. Alexander and Benjamin have lessons. And Henry is his busy-little-self in the Kiddie Pool. I need to be on my toes. I feel more comfortable running around with a Swim Skirt on… not just in my bathing suit.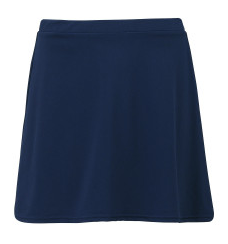 I love that the Skirt is non-binding, I don't want ANYTHING extra tight on my waist. I'm lucky I'm in a bathing suit! The quality is superb, it's fantastic. This Skirt doesn't fade or shrink. Not only that… it's made with Chlorine- and saltwater-resistant aqua SUNTECT fabric, which is a lifesaver for me because I'm in these 2 "waters" all summer long. Additional bonus, it's also rated UPF 50+.
And then my favorite-favorite, the Ruche Swim Shirt. It's a shirt and a tunic. With the ruching on the sides, I can wear it either way. I personally love ruching it, I think it adds to the fashion-chicness.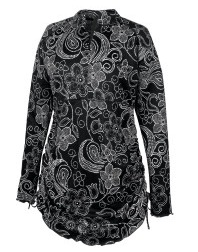 Just as the Swim Skirt is, the Ruche Skirt is made with Chorine- and saltwater-resistant aqua SUNTECT fabric, too. The Shirt truly shapes to your body, it's fabulous. I never have to worry about it looking too boxy or too over-sized, it fits like a glove and I love that about it. Again, it's amazing that it's sun-protected!
But seriously… I'm just scratching the surface with these 3 items… there is so much more at Coolibar for women! There's blouses, dresses, t-shirts, wraps, henleys, jackets, pants and accessories. You would never, ever guess that the clothing is sun-protected. Honestly… it absolutely amazes me. It's functional and fashionable wear, at its greatest. There's something for everyone. If you've got a classic style, a casual style, a preppy style, even a little bit of a sexy style – you can find something for yourself!
And you can also find some wonderful items for your kids and husband!