Got Milk? is heading to BlogHer 2010!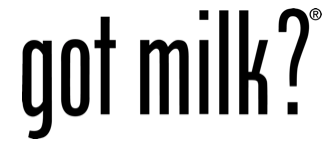 By heading to their got milk? booth at BlogHer (#2108) you'll have the opportunity to take your own got milk? Milk Mustache photo! How cool is that? All the Milk Mustache photos will be printed on-site and available for download on their Facebook page. They are also creating a special got milk? BlogHer Milk Mustache ad featuring the real stars of BlogHer. We will actually be able to recognize the faces in a got milk? Milk Mustache ad!
For my own family… milk is the drink of choice in my house.
Why Milk?for my family?
Since my sons were babies, they've been drinking milk. Now at the ages of 5, 4, 3 and 2… they still all crave milk. As their mom, I'm ecstatic about this because I know how healthy it is for them to be drinking it and using it in their cereals and oatmeal. I love that it is helping to unlock your their potential as they head into school and pre-school by making sure they start the day with a bowl of cereal and naturally nutrient-rich milk. This is KEY in my house. I feel like I'm doing something good for my sons when I see then enjoying their milk and when they're asking me for some. Starting in the morning for breakfast, it gets us going! Milk is our breakfast staple on the table. My sons love to say that they're getting strong when they finish drink milk. And we always laugh when they say this, but it's true. Milk has a unique combination of 9 essential nutrients – like calcium, vitamin D for strong bones and protein for lean muscles – so important for growing boys.
Because of all of this… I am ECSTATIC to be one of Got Milk?'s Advocates throughout BlogHer 2010. I am honored… milk has always been a staple in our home (where we probably need our own cow!) and I'm so excited to help spread the importance of milk and join in on the Got Milk? campaign!