I had the pleasure of speaking at The X Factor: Marketing to Women in the Digital Ageyesterday. I was on a panel with Avi Savar, Founder & CEO, Big Fuel Communications, Seth Baron, Advertising Program Manager, Google | YouTube, Honor Brodie, Editor in Chief, Tory Burch, and moderated by the amazing Maura Curtin, Executive Director, Social Media Advertising Consortium. We spoke on The Power of the Individual Voice: Social Media & the Blogosphere. I shared my story about how I got into blogging and why I've stayed in the "world." As I was driving home last night from NYC, I was chatting with a friend from college and telling her about the conference and what I spoke about. She's not a blogger, but has often wanted to get into it. She's heard me go on and on and on about blogging for about 3 years now… but last night was the first time she ever point-blank-asked-me: But why do you love it?
Here's 10 Reasons WHY…
1. I get to work-from-home with these little guys…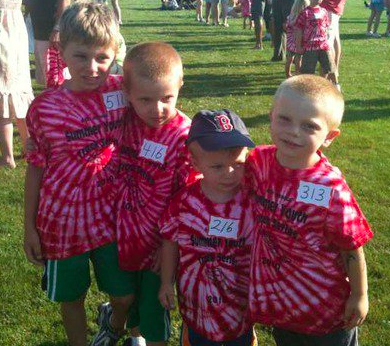 2. Thanks so Twitter, Facebook and Skype I get to communicate with my friends (I like to call it my virtual office) all day long.
3. I get to meet some pretty incredible people.
4. I have the opportunity to work with brands and companies whom I love.
5. I love being able to write every single day about the things that I am the most passionate about (yes… even sometimes a sale at Lands' End!)
6. A day at the office can be a night at the Emmy's.
7. I'm able to get my kids involved in my work.
8. Get to be my own boss.
9. You can be anywhere and work (as long as there is internet).
10. Love being able to report on fashion for moms.