Forever, just about… I've wanted to learn to play the Harmonica.  I love its sound and its versatility… its bluesy, jazzy, rock, country, soul, ballad-y, bluegrass and even symphony sound.  I think of frontiersmen and Civil War soldiers and American adventurers and railroadsmen who found beauty and solace and company in their Harmonicas.  I think of musicians like Little Walter, Brownie McGhee & Sonny Terry, John Lennon, Bob Dylan, Stevie Wonder, Bruce Springsteen, Billy Joel… who used the expression of the Harmonica to change the landscape of music.
Problem?  I don't have a speCk, a sCrap or a partiCle of musiCal talent. That's the truth. But I wanna talk into the Harp.
I can't sing.  I can't read music.  I don't know a scale from a progression, a chorus from a melody, or a 3/4 measure from a clef.  I don't know a diatonic from a chromatic Harmonica.  Seriously.  But I wanna talk into the Harp.
It's a need, I think, from somewhere deep inside of me. But I've always been afraid to try…
Until today. Today, Barry and I headed to our local Guitar Center store.  I felt like such an impostor heading into the store… all alive with its sounds and lovely instruments and real musicians.  I timidly looked around for a few seconds, hoping the Harmonicas would be right in front of us, directing me to the very one I needed to fulfill a lifelong dream.  No such luck.  I felt uncomfortable even asking a guy (the real musician, I'm sure, who is working at the Guitar Center to pay the bills while waiting to make it big with his music) where to find the Harmonicas.  I was sure he was going to say, "WHAT?  YOU?  Here's A Key to the Highway, Honey."
Instead, he smiled, pointed and answered, "Right over there.  Behind that wall."
"OH, GREAT," I was thinking, "now I have to walk all the way over there and ask more questions."
I looked at Barry and knew he was feeling really comfortable in this music place.  He was like the proverbial kid in the candy shop.  But he has music in his blood.  Really deep in his veins.  On his Mom's side, there are musicians and music teachers and even music professors.  On his Dad's side… well, Barry's Dad and brothers and nephew have some local fame as drummers.  Barry… more athletics than music… but music is still in his blood.
I followed Barry to the Harmonica display.  Oh, no.  There were different makes and models and levels and keys and manufacturers.  We spun the display spinning display thing around and around and around until we found 2 beginner models… both Hohner, 1 Beginner Rhythm & Blues and 1 Beginner Rock & Roll.  Both in Key C.  For beginners.  That would be me.  Then Barry asked another guy where to find instruction books.  Oh, no. Would this guy ask me why and how and when and where I would be trying to learn this Harmonica thing?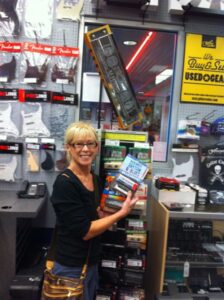 No.  Instead, this young sales guy was friendly and kind and helpful… pointing us to some instruction books with the eyes of someone who believes, I think, that anyone can make music.  Even an older gal.  Like me.
That's why I love my List of 57 in 52… when all is said and done and purchased, I can approach this thing, this learning, this understanding, this need with no fear of failure and no thoughts of judgment.  It's just ME AND MY HARMONICA (well… 2 Harmonicas and 1 instruction book).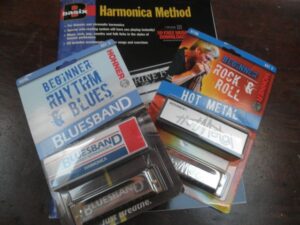 Off to the cashier we went to purchase our $20.00 worth of Harmonicas, including the instruction book… a small price to pay for a dream.  Oh, wait. That doesn't include the 67% discounted keyboard that Barry wanted and needed for his lifelong dream of learning to pound the ivories.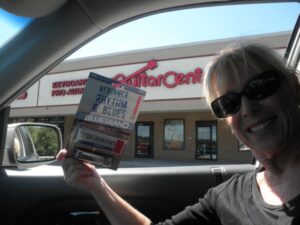 So here we are.  Home on the Range.  Ready to make beautiful music together.  Kind of like Highway 61 Revisited.  Or  Highway 57 in 52!  Or, honestly, more like Marty & Bobbie Culp, the Altadena Middle School Music Teachers on SNL.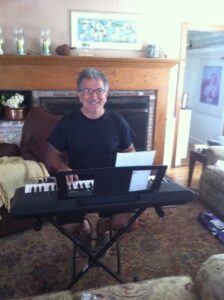 (I can't even imagine what our kids are gonna say when they see Marty Culp… aka Barry Couto… above.)
I'll keep you updated as I learn to talk into the Harp… unless you want to Row, Row, Row Your Boat out of total earshot as I practiCe!