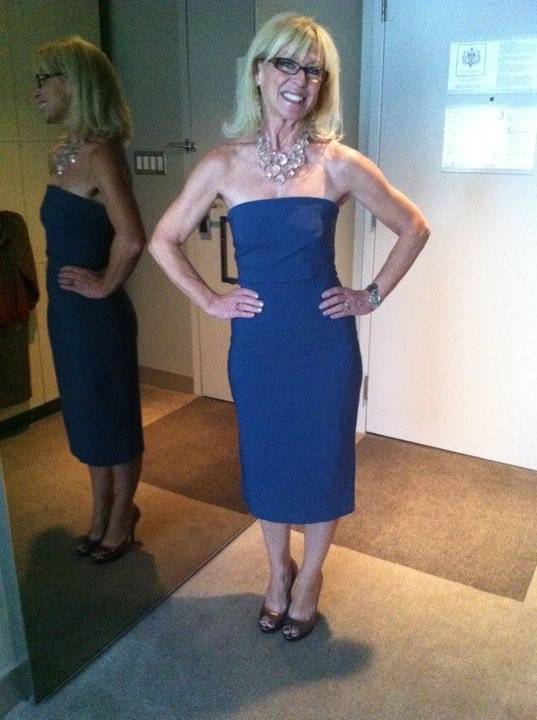 Did I just write Red Carpet Ready?
Yes, I did!
And yes, I did… get Red Carpet Ready, that is, for the Emmys!
It all began with Suave and the beautiful and talented Sophia Vergara, the Modern Family ensemble member who was nominated for an Emmy as Best Supporting Actress in a Comedy Series.  Sophia worked with Suave Professionals and allowed fans to vote for her Emmy-ready hairstyle…
… and Audrey was invited by Suave to head to LA to interview Sophia about hair and style and fashion and being a Mom and getting ready for such an exciting honor and Emmy evening…
… and Audrey was invited to actually attend the Emmys…  and something about 2 tickets… and… and… AND I GOT TO GO, TOO!
OK.  Red Carpet.  What comes to mind immediately?  A TEAM OF STYLISTS? (Well, yes, if I was nominated for an Emmy, maybe.  But I wasn't.)  A TEAM OF STYLISTS? (Yes, again, if I was a presenter at the Emmys, maybe.  But I wasn't.)  A TEAM OF STYLISTS? (Um… not this time!)
My big question was WHAT TO WEAR? Of course.  Hmmmm.  Something pretty.  Something fun.  Something comfortable.  Something sexy!?  I wanted to step out of my comfort zone with the LBD and into something more California.  More colorful.  More Hollywood.  But I didn't want to spend a lot of money and I didn't really have any time to shop anyway.  Next best thing?  Shop in my own closet.
I have a closet in a spare bedroom where I keep things.  Not hoard, exactly.  Just keep.  In that closet are "things for potential Halloween costumes and tea parties and such"… things like old/vintage blouses and shirts and belts and vests and hats and aprons and jewelry and white gloves and wigs and sunglasses that some members of my family might like to get rid of (Honey?!), but are always grateful when I can whip up a costume by just visiting that closet.  In that closet are the long dresses I wore to my children's weddings… waiting to be shortened into cocktail dresses that I can wear to an event like the Emmys.  Who knew?  But not enough time for this Emmys.  In that closet are tuxes and coats and skirts and dresses that someone just might wear again if I keep them long enough… some dresses that Audrey has from her Donna Karan days to dresses that I bought for Audrey and Jane as far back as when they were in college (high school, even).
It was just that thought, the someone just might wear again thought, that drew me to that closet in the spare bedroom.  I stepped inside and went about my work, swooping each hanger aside, one by one.  The pink dress? No, too cute.  The red one? No, too casual.  The brown one? No, too plain.  The gray one? Maybe, but the back slit goes way, way up too high, right into Spanx territory.  Egads.  How about the Donna Karan navy blue dress? Worth a try-on.  The black-and-beige silky Donna Karan? Worth a try-on.  The mauve frilly Donna Karan wrap? Um.  No.  I'm not IN the Emmys, remember.  The steel blue sarong? Possibly.
I took each possibility out of the closet.  I tried each one on.  Too tight.  Too loose in the wrong places.  Too Spanx.  Too boring.  Too OMG, no.
Then, last but not least, I slipped into the steel blue sarong dress.  I had never worn this dress.  Heck, I had never even tried it on.  I know for a fact that Audrey and Jane each wore it a multitude of times.  I have photos to prove it.  Photos from quite some time ago. I don't even remember having it cleaned, but it was all pressed and had been hanging so neatly by the two giant safety pins on the tattered paper around the hanger itself.  I liked it. Pretty.  Fun.  Comfortable (all kinda spandex-y and stretchy with plenty of room for those Spanx).  Sexy!?  Maybe, for me!
That was it.  That was "the Emmy Red Carpet dress."  I slipped out of it and noticed the label.  EXPRESS.  I smiled to myself, knowing that I was going to the Emmys wearing wearing a someone just might wear again EXPRESS dress that I had probably purchased for my daughters for somewhere in the vicinity of… oh, $20.00… about, oh… 12 years ago.  It was the perfect recycling moment.
Then it was time to accessorize.  I got all into the shop in my closet challenge and vowed (to myself… because no-one else was around!) not to spend one cent on my Red Carpet-worthy outfit.  I had the dress and the Spanx.  I needed jewelry, shoes, a purse and a little cover-up.
Because the dress is a sarong-style, I knew I could get away with glamorous jewelry.  I wanted something sparkly and bold.  I am known for pearl earrings and necklaces.  Conservative.  I wanted the opposite for the Red Carpet.  I wracked my brain for ideas.  I went through Flo's vintage costume jewelry, but she had only clip-ons in the boxes I have saved.  I thought of my Mom's jewelry, but she's too tiny to wear long chandeliers.  THEN I REMEMBERED Audrey and Vera's Getting Gorgeous Party at BlogHer and the lia sophia jewelry.  I had picked out a pair of fabulous lia sophia crystal chandeliers… but where had I put them?  I looked everywhere.  I called Audrey and Jane.  No-one had seen them.  I finally remembered a lone bag that had been sitting on my dining room table since Blog-Her.  I gently opened it… hoping… hoping… and there was a lia sophia box.  In that box was a velvety soft pouch.  In that pouch were the crystal chandeliers.  Fabulously beautiful and bold.  I slipped them into my ears.  They sparkled.  And they instantly reminded me of a necklace that my Mom had recently purchased at a consignment shop in my town.  I knew the necklace would be a perfect compliment to the earrings.  I called my Mom, who was coming to dinner at my house that night… and she was so happy to bring the necklace as her contribution to the Red Carpet-ready feeling (remember that my Mom is the original fashionista)!  I also wanted to carry Barry with me, in something I could see and feel, and that was a silver bracelet he had given to me years ago while working as Dustin Hoffman's stand-in on the film American Buffalo… the bracelet with 5 authentic Buffalo Head nickels… so meaningful and so perfect for this Red Carpet adventure.
The shoes?  That was easy.  I love to be a bit daring with shoes.  I like 'em high and, well… high.  I have a pair of high, peep-toe, lavender-ish colored Calvin Klein shoes that I bought for a just in case occasion because they were incredibly beautiful and sexy (just ask Barry) and marked down from $150.00 to $49.99.  I had never worn them.  They were saving themselves for the Emmys.  And the purse?  Who knew back in 2007, at the InStyle Super Saturday Ovarian Cancer Research Fund-raiser in the Hamptons, that the awesome lavender-ish Banana Republic clutch that I'd bought for $5.00 would be the perfect mate to the shoes.  I had never used it.  It, too, had been saving itself for the perfect occasion.  Ahhhh.
And a sweet little cover-up, just in case the Nokia Theater was super-air-conditioned?  (Which it was… and outside it was a cool 60 degrees when the Emmys were over and Audrey and I were waiting for our limo.  Did I just say "limo"?  Yes, I did.)  Brrrrrrr.   The cover-up is a beige cotton lace blouse-y number with a very dainty tie.  I bought it, too, at one of the Super Saturday's I've attended over the years.  I love it… and it was perfect.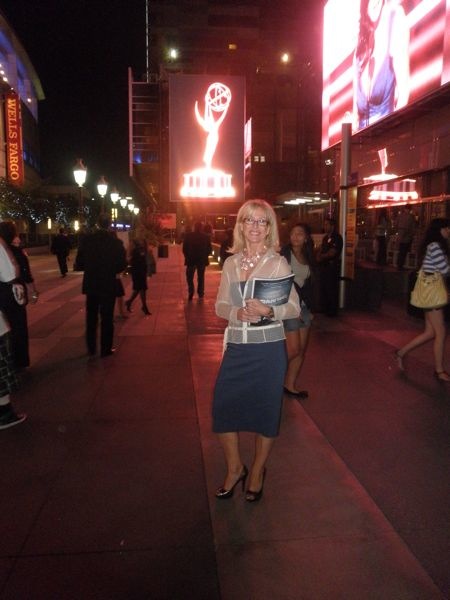 So.  Red Carpet ready, I'd say, on less than a budget… for an absolutely PRICELESS time with Audrey!
Thanks, Suave… for the memories… including watching Sophia receive an Emmy, along with her cast/production members, for Modern Family's Outstanding Comedy Series win.