When our kids were little, Barry and I saved what we considered to be a hefty sum of money to buy the kids one of those new-at-the-time wooden swing sets… the green wooden ones, with the shaped swings like the ones at "real" playgrounds and a yellow rope-climbing apparatus and a platform with a slide that didn't burn their bums or legs because it was not steel or metal… and bars and hand loops for dare-devil twisting and turning upside down… and a ladder-type-thing right across the top where they could only go once they turned 4. Jane waited and waited for an entire year to climb across that top ladder thing.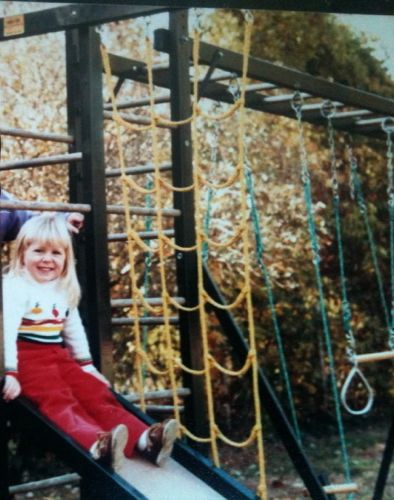 In those days, you had to go to the store where they sold those swing sets to order exactly what you wanted, and then wait forever until someone came to install it. The day we headed out to wherever that place was (somewhere in Massachusetts) was a little family excursion. You can only imagine 4 kids heading into a playground mecca, a place where dreams truly could come true.
Unless you were on a back yard playground budget. Which we were.
Barry and I headed to the main desk area with our "wish list" and 4 kids in tow. But somewhere between the door and the main desk, something caught the eyes of all 4 kids at once. AT ONCE. It was something called a Space Trolley. It was such a simple concept. But such a powerful force. Our kids stopped and stared and stood there in awe. This thing was something strung from tree to tree with a strong wire and a wooden bar and a pulley system that allowed a flight through space. Hence, Space Trolley.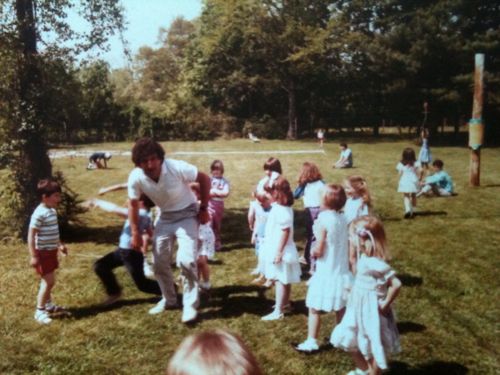 And I must admit here that Barry and I were captured, too. It was way, way too expensive… but we figured if we assembled it ourselves?… and cut out a couple of features on the swing set?… maybe we could swing it?
We did. And we never regretted it for one moment. Our kids loved that Space Trolley… as did all the neighborhood kids. The main problem was that Barry and I were both too heavy to ride on it… although we both tried. Barry immediately pulled the wire to almost the ground… and I always got stuck right in the middle… sagging like a couple of parents trying to act like kids.
Fast forward 27 years.
Call it a Zip Line rather than a Space Trolley. Ride up a steep, winding, rock-covered ski trail in an open Jeep with a guy who loves his job… exit the Jeep to cross a couple'a slippery fallen trees… and embark on the adventure of a lifetime. A grown-up lifetime, that is. Last Friday, Barry and I spent just about 3 hours at White Mountain Exploration's zip-line and adventure course, high up in the White Mountains of New Hampshire. I thought a zip-line adventure was a one-and-done kind of thing… you know, where you harness in, zip along a Space Trolley type of thing, land, disembark and go on your way.
Nooooo. The adventure began with a tight-rope walk high up and across a rocky babbling brook river. Just yourself, your feet, the tight-rope, a harness, a rope-guide that swung way out there over that rocky river, and 2 awesome guides, Heather and Kay, telling you what to do. Heart pounding. Hands trembling. Legs… please don't shake like that. And, oh yeah, maneuver around a tree in the middle of the tight-rope. Then another tight-rope walk where you had to leap several feet from the platform and land on the actual tight-rope before gripping a swaying rope on each side, in each hand, and cross another way-high-up rocky slope. What!? AND worry about your husband, who was going first out of the 5 people in our little adventure group (Barry, me and 3 women who were adventuring, too!).
OK. Then the first of 8… yes, 8, zip-lines through and down and over and around the vastness of those White Mountain trails and trees and precipices. Again, Barry went first. Harnessed. Listening to the guides' directions on how to hold on and brake at the platform on the other end… the platform that was so far away that you couldn't see it. BRAKE!?
I repeat, BRAKE!? Yep. When zip-lining through space, you have to brake when the "space" means slamming into a platform on the other end if you don't brake properly. To BRAKE, you keep your right hand on two of your lines and you pull on the two lines, creating friction on the wire… hopefully creating a nice, smooth landing. Interesting thought. The other interesting thought that I had involved memories of me sagging from the middle of our old back yard Space Trolley. I asked Kay what happens if you brake TOO MUCH, TOO SOON and end up slipping backwards to the middle of the zip line, hanging above the trees, rather than braking perfectly and reaching the platform. Kay answered that there are ways to rescue people from that particular dilemma. I vowed to myself to reach the platform.
That first zip jump was the most exhilarating feeling… harnessed and clipped… but stepping off that platform into the air. ZIPPING. The wind. The sound of the pulley on the wire. Barry who-hooing from the other end. The trees below. The sight of the platform on the other end coming into view. Heather standing on the platform, signaling me to BRAKE, BRAKE! I did. And it was a perfect landing. A perfect flight. A perfect feeling… feeling just like a kid.
Phew. I thought… OK, I can do 7 more of these!
But another zip line was not next. Next was the Tarzan jump. You can imagine what that is. Harnessed, leaping through space and time in a big arch and landing on a rope apparatus (just like the one on the green wooden swing set, but WAY bigger!), and clinging to and climbing up that rope thing to another platform. That was scary. But I would do it again today!
In-between some of the high zips and tight-ropes and Tarzan swing, we walked through the most beautiful land imaginable. Down slopes. Over babbling brooks and rocks and tree stumps. Some of the trees were already beginning to show glorious signs of fall in New England. We walked along, our ropes and pulleys tossed over our shoulders like great, experienced climbers. It was wonderful.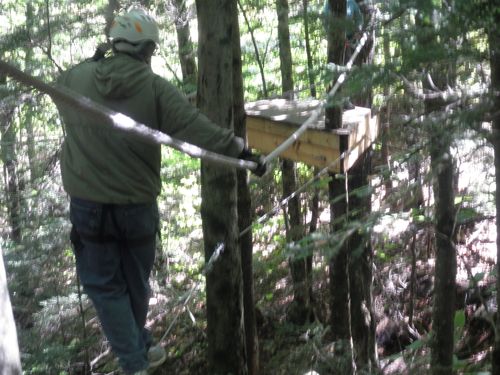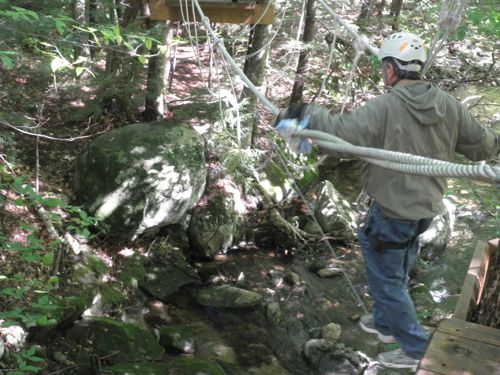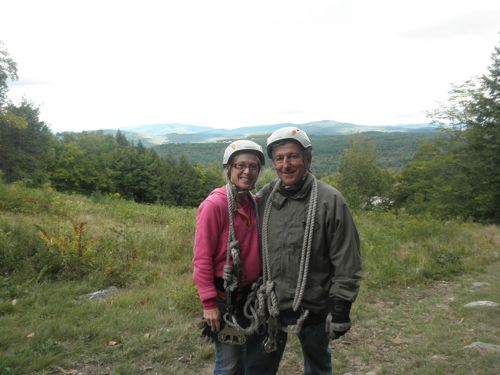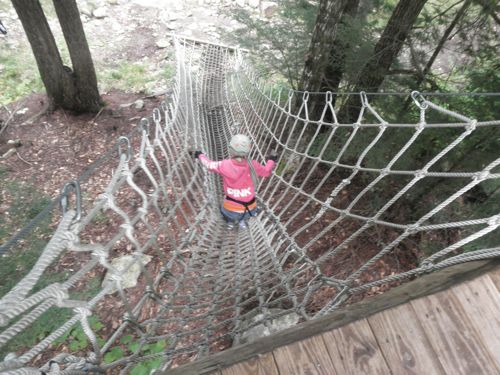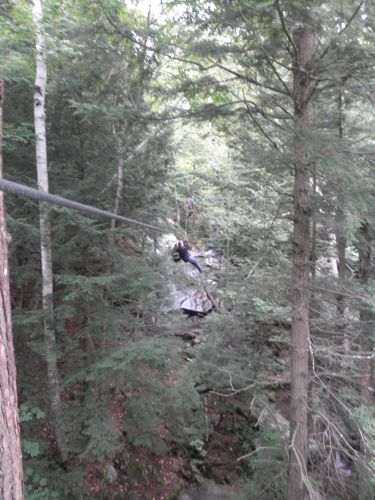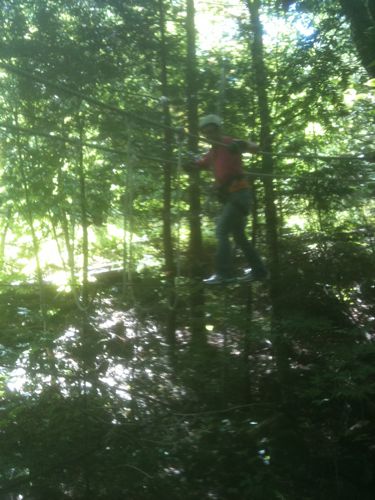 Some of the zips were one to another to another. Each time we were harnessed and we leaped and we braked and we landed on platforms way high up in the air… platforms so narrow that we all had to be clipped to the tree just in case any one of us fell over the edge of the platform. I stayed very close to the trees. Sometimes, we had to crawl down from the platforms to walk to the next adventure. Tree-house-type ladders and elaborate rope systems made this even more of an adventure.
Barry and I had the time of our lives… after all those years of longing to play on our kids' back yard Space Trolley, we had the chance and the adventure. Thanks to White Mountain Exploration and our incredibly fun, smart, kind and knowledgeable guides Heather and Kay, I can add this great challenge and long-time-coming wish of sailing though space to my List of 57 in 52. Now we must return with our kids and our grandchildren to show them a real Space Trolley!
ZIPPITY Doo Da… my-oh-my, what a wonderful day!