Halloween is almost upon us… and you know what that means… it's Trick or Treating TIME!
We always give away Reese's Peanut Butter Cups and Kit Kat Bars because they're our favorites (and then we hope we don't get many trick or treaters, so we can keep it all!).
Well, this Halloween, Hershey is dressing up their own candy, and I love it! From pumpkin-shaped Reese's Peanut Butter Cups to Hershey's Kisses dressed in Halloween colors to orange Kit Kats! Hershey is making Halloween even more spooktacular!
My family is loving it… as you can see…
Celebrate Halloween with Hershey's and get some really cool desktop wallpapers, delicious recipes and costume ideas!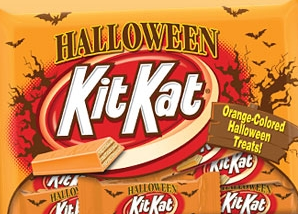 Disclosure: Hershey sent us some of their new candy to try out. Unfortunately, I didn't get to try any of the Reese's because my husband and sons got to them first!