When I registered to participate in the Amica 70.3 Half Ironman in Providence way back in February 2010 as one of my 57 in 52, I wasn't the slightest bit sure that I could even begin to train for such a race, never mind finish it.  But I did.  Train and finish, that is.
It was not easy. I am not a swimmer.  I am not a cyclist.  I am not a runner.  I've never been a swimmer, cyclist or runner. None of these come easy to me.
You know the lyrics to that song… right?  The one that George Harrison wrote for me.  Or maybe not for lil' ol' me.  But the lyrics tell exactly the way it is with me when it comes to training:
Got to pay your dues if you want to sing the blues
And you know it don't come easy
You don't have to shout or leap about
You can even play them easy
Forget about the past and all your sorrow
The future won't last
It will soon be your tomorrow…
I knew I had to "pay my dues" by getting out there and learning to do these things in pools and on a bike and in running shoes if my dream of finishing a Half Ironman was possible.
It wasn't easy.  It don't come easy for me.  If anyone thinks it was easy for me… well, that is fiction beyond all fiction.
I wanted the race to be fun.  I wanted to enjoy each moment.  I didn't want to worry about times and clocks and speed and miles and mph's and rpm's and what everyone else was doing.  I didn't want to become overwhelmed with technology and equipment and gels and drinks and attire.  I wanted it to be fun… knowing all along that it don't come easy.  I was willing to try.  I was willing to train.  I just didn't want it to consume my life.  And fun was the main goal.
I trained.  I trained hard.  I found many days very difficult to fit in the swim or bike or run.  I dreaded many days of training.  It did not come easy.  At all.  But I did it and I did cross the finish line in 8 hours and 1 second… just about doubling the time of the first place finisher.  But I didn't care.  I had done it.  I had accomplished a dream.  An 8-hour dream of swimming, cycling and running until I had covered 70.3 miles.  So you can only imagine my shock, awe, surprise, astonishment and flabbergastedness (is this a word?) when I came in first in my age group (55-59 year old females)… qualifying me for the Foster Grant World Championship Ironman 70.3.  At first (after 8 hours and 1 second and all), I was all… like… "cool" and "awesome" FOR SOMEONE ELSE.  I had a DREAM of "ONE AND DONE."   Problem is that the only other racers in my age group had either not raced at all, or not finished the race.
I was the lone 55-59 year old female who had completed the Amica 70.3 Providence Half Ironman… and that "win" qualified me for the incredible, yet crazy, Clearwater Championships.
I will admit here that this fact did not make me feel like all that and a bag of chips.  Or, if I may, a bag of granola.   Accepting my awesome trophy at the awards  ceremony made me feel kind of… I don't know… like an impostor.  I mean, I was the ONLY ONE WHO FINISHED.  That simple fact doesn't make me a winner.  It makes me a… a… default?  I didn't even know if I wanted to start the training all over again.  The minutes and hours and days of training.  NOT EASY STUFF.  It just don't come easy for me.
But then… I was all signed up… and frantic about being a total loser at the real Championships.  I still didn't have all the skills to compete smoothly and efficiently and fast enough to be in the Championships at all.  Swimming, cycling and running still didn't come easy.  I hired an on-line coach to help me better prepare for my training… and what did I get myself into?  Codes and technology and drills and words I don't even understand.  If it didn't come easy before, well… someone needed to write me a new, stronger don't come easy song.
But I have tried to decode and learn the drills and embrace technology and move on.
So why am I writing about all of this?
Because yesterday a friend told me that this was easy for me… and that made all the difference.
WHAT?!
This is the hardest physical thing I've ever attempted in my whole entire life.  I don't remember learning to walk, but I've seen lots and lots of children learn to do it.  There is a reason that parents and relatives and friends stand around and clap and go berserk with excitement when the walking thing happens.  'Cuz it don't come easy.  It takes days and sometimes even months  to master a physical thing such as this.
That's just about how I feel about swimming, biking and running.  Easy? Where did that concept/idea/misinformation come from?  Each day, I talk myself into doing the thing I'm supposed to do that day.  I sometimes find it difficult to go out and do some of these things all by myself.  I often sit and think and put it off… and sit and think and wonder if Barry will be home soon so I can take him with me… and then I know that the sun will revolve around the earth again if I don't get my rear end in motion.  And I go out.
Recently I had such a day.  I knew I had a very different kind of run to do.  I had warm-ups and stretching and things like that… and then I had to run as fast as I could for 6 minutes.  WHAT?!  I knew I would need someone to time for me.  To encourage me.  To make me get out and do it.  Problem was that no-one was around.  No-one.  So I sat and thought and came up with a thousand reasons why I couldn't do this thing by myself… and then I knew the sun was going to set and a new day would be here.
Believe me.  This don't come easy.  But I changed into my running stuff and headed to my car.  I knew I had to run on a flat course, and around my home isn't flat.  It's very hilly. I decided to bring this training day to a local park… all by myself… with just my water bottle and a watch.  Now, this may seem standardly easy to some others out there, but not for me.  It takes great effort for me.
Once at the park (just a few minutes from my house, thankfully), I felt the coolness of the late day.  I heard the roars of school children in soccer and cross country running competitions in the big open fields.  I saw the rolling greens of the park's public golf course as the sun made everything even greener than green.  I parked my car near a flat and slightly winding road and I breathed deeply.  Suddenly, this run was going to be easier today than I had thought.  Not easy.  But easier. The beauty of the late afternoon got into my soul.
And I did it.  I did my run.  Exactly the way I was supposed to.
But it don't come easy.  Now you know it don't come easy.
I have 5 weeks and 6 days left 'til Clearwater, and each day brings new training and a new way to fit everything in.  Each day frightens me a little lot.  Each tomorrow challenges me.  No day is easy.  I run in the heat, the cold and the rain.  I swim indoors at our local YMCA pool at all hours of the day and night.  I cycle outside… but recently I purchased a trainer to cycle inside my home on very rainy days.  I turn on my television and cycle in place for… well, time.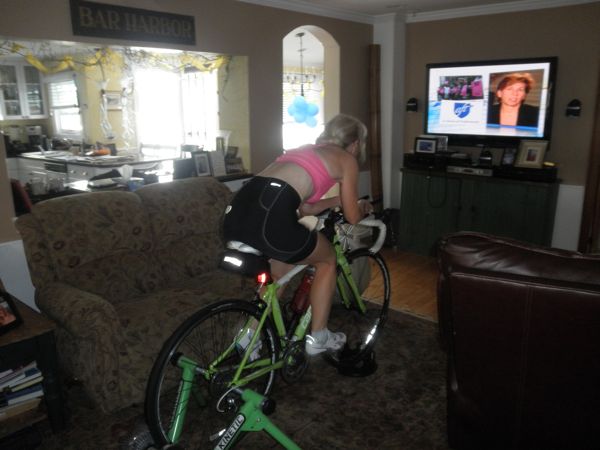 But the gift is the challenge and the tomorrow and the digging way down to do something that ain't easy… and the gift of discovering all the beauty that is ours if we step out of our easy zones.  If I have learned anything in this year of being 57, it's the challenge of putting aside my fears and shyness (I am very, very shy… just ask Barry)… and accepting challenges with a sense of great discovery, and the idea that tomorrows don't continue forever.  The future don't last… it will soon be your tomorrow. And it usually brings FUN. 

I don't know how I'll do at the Clearwater 70.3 Ironman Championships in a bit under 6 weeks, but I will know that I've paid my dues.  And for that, I'm happy.  For that, I'm proud to have taken it on.
What's on your list of things that don't come easy?