As a blogger, who has been the mom-space for the last 4 years, I was absolutely, positively intrigued when I first heard about Grows Up. This is something that will be an amazing game-changer for all "mompreneurs" looking to get their products out there.

Grows Up is an online marketplace where growing businesses and "mompreneurs" can open an online children's boutique – with no monthly charges or setup fees. Grows Up showcases unique, boutique quality original clothing, toys, books and more for children and their families. Unlike other online shopping sites, this one-stop e-commerce destination gives boutiques with existing shop fronts a way to further grow their businesses and provides "mompreneurs" with the tools to create their own online boutique.
I had the opportunity to chat with founder, e-commerce guru Stephanie Robesky, formerly of Skype.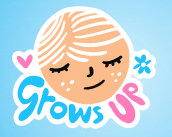 1. What was the passion behind starting GrowsUp.com?
We started Grows Up after being frustrated with trying to find unique, high-quality baby and children's stuff. There are literally thousands upon thousands of aspiring Mompreneurs who have created amazing product lines, but they are really difficult to find online. We really wanted to bring all of these great products together in a curated marketplace.
Within the company itself, we are passionate about building a family-friendly company that supports working moms and dads. Currently, we are four women and we all love what we do, but also love our families and trying to find a work/life balance is sometimes difficult. We really felt that we could create a successful company that understands the needs of growing families. It is our aim to hire the best people on the planet and we truly believe that happiness in the home brings happiness to the workplace. This is why we have a playroom in the office for the kids to come in after school and are looking to implement many more initiatives to help our employees as we grow.
2. Having an amazing background e-commerce, what were the key pieces you wanted to make sure were included in and on GrowsUp.com?
It was very important for us to make sure that we really showcase the products and the designers in a beautiful way. But even better than that, we realized that no one online actually gives great product recommendations that are aimed squarely at your own children. We have created a filter that allows you to create a customized boutique for your own child. Every time you come back, we give you new products based on their gender and age. Hence, we Grows Up with you and your child.
3. What an incredible platform for momprenuers, were you surprised that there isn't anything like GrowsUp.com out there?
We were really surprised that there was nothing made for mompreneurs in the baby and children's space. We felt that it was a tremendous opportunity to really bring together a great community of mompreneurs and empower their businesses to grow.

4. For anyone wanting to get involved with GrowsUp.com, how can they do so?
Mompreneurs can contact us at www.growsup.com/boutiques for more information. We work very closely with our boutiques to give them all the support we can so that they can focus on making the best products out there. In the future we will also have resources for aspiring mompreneurs about how they can get their ideas off the ground and into Grows Up.