My niece and nephew wear uniforms to school. My niece is all about being a fashionista… she loves, loves, loves cute and fabulous clothing. Wearing a uniform to school, she must wear either navy, white or khaki items. She came to me for some fashion-help… "Auntie Audrey, can you please help me find some cool clothes for school?"
All I had to say was – French Toast.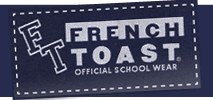 French Toast offers classic, chic and fabulous uniform options for kids. I was blown away by the amount of selections and varieties, I was beyond impressed. You can find anything here. Seriously, if you're child needs to wear a uniform , French Toast is the place to check out!
Disclosure: French Toast provided me with clothing to review.