This Halloween was ALL about Toy Story. I still have been calling Alexander "Woody" for the last 2 weeks! Or, better yet… he's insisting that he be called Woody. Which means that Benjamin needs to be called "Buzz." Ahhh… brothers.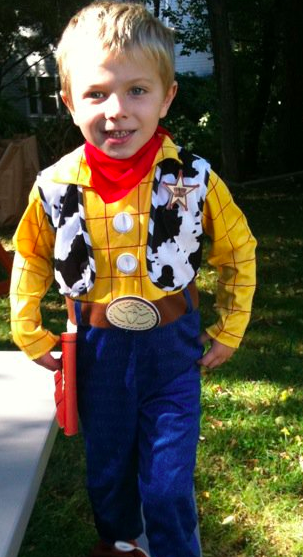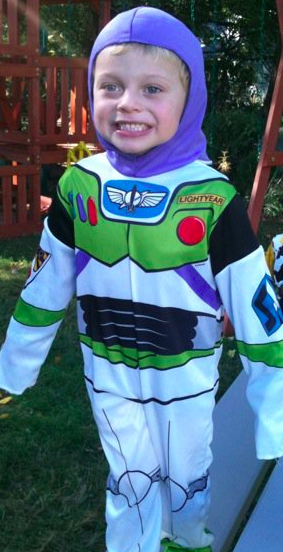 My sons were so excited for Toy Story 3 DVD to come out that we actually started an actual countdown to the release… it was November 2nd, 2010. And it gets even more Toy Story 3 crazy for my family. As we headed to Pittsburgh this past weekend for a family baby shower, we realized an hour into the trip that we forgot the DVD, so we pulled over to buy another one. 10 hour long drive… you bet I'm buying a second one! The boys watched it 3 times on the way to Pittsburgh and 4 times on the way home. They are actually reciting lines now… it's hilarious!
My sons really just started to get into Toy Story this summer. Their older cousin was a huge Toy Story lover when since Toy Story 1 came out and he passed along the magic to my sons. As soon as they "discovered" Woody and Jessie and Buzz… they were hooked! "To infinite and beyond!" is repeated multiple times in my house every singe day! We brought them to Disney on Ice this past September in RI because they heard the "gang" was going to be there!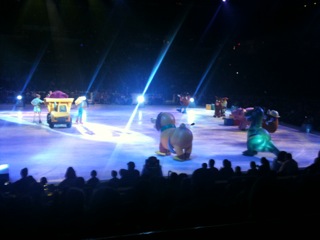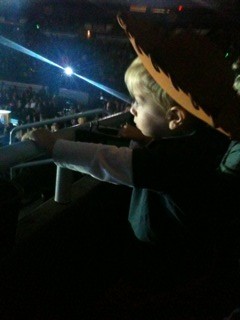 I love these photos because my sons are still young enough to really be brought into the magic of Disney 100%… and truthfully, I still love the magic, too (even at 32 years old!). We bought the boys lights and Buzz Lightyear figures (that talk) and just about anything and everything else that has to do with Toy Story. And my sons only like the toys that do things, which requires lots of batteries. Working as a Rayvaoc Mom Ambassador right now, I thought it was incredibly cool to hear that Rayovac is the Official Battery of Walt Disney Theme Parks. Considering we're planning a trip to Disney in 2011 (pretty much because of the boys love of Toy Story), I loved hearing this news.
And right now you can save $5 by mail with the purchase of (2) AA/AAA-12 packs, C/D-4 packs or 9V-2 packs (or larger) of Rayovac Alkaline batteries and Toy Story 3 on Blu-Ray or DVD!
How it works:
Purchase (2) AA/AAA-12 packs, C/D-4 packs or 9V-2 packs (or larger) of Rayovac Alkaline Batteries by 12/31/10
Purchase (1) Toy Story 3 on Blu-Ray or DVD by 12/31/10
Complete the back-by-mail form found on: http://www.rayovac.com/Promotions/Toy%20Story%203.aspx
Mail the form, product UPC labels and store receipt to the on-form address by 1/15/11 (see form for complete details).
DONE! How easy is that?
For more information on Rayovac promotions and coupons here: http://www.rayovac.com/Promotions.aspx
Disclosure: I am working as a Rayovac Mom Ambassador.