If I'm spelling anything wrong, it's because I actually have the stomach flu and seriously shouldn't be blogging right now… lol.
But… I refuse to miss a day of blogging because – after all, it is called 365 Days of Fashion Advice for Moms.
So I'm going to make it short and sweet today.
The stomach flu has been raging through our house. I have been playing nurse to my sons and husband all week long, well… last night, it got me. I was down for the count at 7PM. Literally almost had to be carried up to bed because I was so sick. Bless my husband for taking care of me while he was sick and on his birthday. He was up all night with me.
Right now… I'm feeling a little bit better. But as I've seen with this nasty flu – it comes and goes for about 3 days. It's HORRIBLE. I just want us all better by Tuesday night so we can drive to Hershey, PA and still be able to surprise the boys with a full day of fun on Wednesday on our way to Pittsburgh. Fingers and toes crossed.
So… my advice today. What to wear when you have the stomach flu…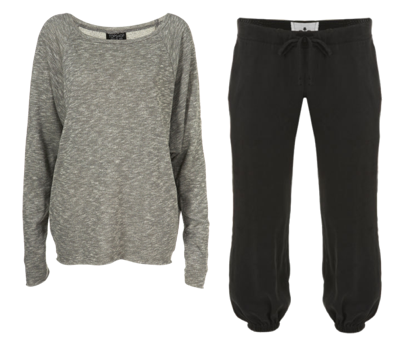 It's all about the SWEATS. Loose fitting. Nothing tight on the stomach. Adjustable waist.