This year Santa's bringing (or so I've been told) a few items that absolutely, positively require batteries.
3 Leapfrog Explorer's will be under the tree this year, all requiring batteries. There's 12 batteries needed right there.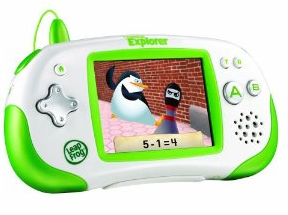 Not to mention about a dozen other toys that all require batteries, too! What can I say, my sons love toys that talk, sing, interact with them and play music!
I wasn't surprised at all to see that a recent survey by Rayovac found that 65% of moms admit they have forgotten to purchase batteries for holiday toys and gifts. I have to say, last Christmas that was totally me (and let me tell you, it's not easy finding any place open on Christmas to go buy batteries at!). To help moms with their holiday shopping tasks, Rayovac batteries created a Battery Shopping List matching batteries with the season's top toys… THANK YOU RAYOVAC!!!!!!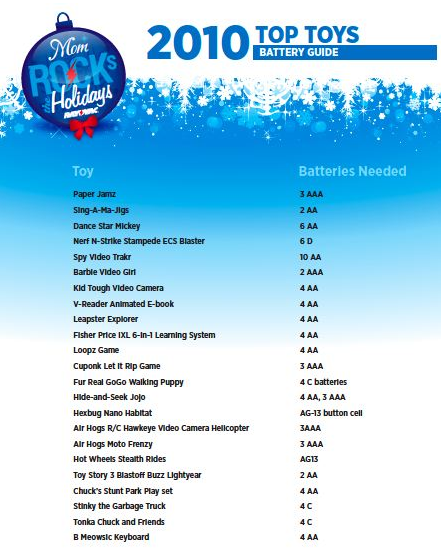 And for some added Holiday advice…
• It's All about the Double – A's – Seven of the top ten toys of the season require AA batteries that's a total of 36 AA batteries to power toys such as the Kid Tough Video Camera or the Leapster Explorer.
• Rayovac Rechargeables – For those that want to keep new toys powered through the holidays and beyond, consider giving a gift of Rayovac Rechargeables.
• More Savings – Rayovac already offers more power for your money, but you can also find additional savings from the brand as well – Follow Rayovac on Facebook and Twitter for fun promotions and coupons.
I love that I can print out my Battery Shopping Guide and bring with me to the store to know exactly what I need. With my sons being of "age" where Christmas is not Christmas without actually getting to try out their toys, I can't be among the 65% this year!
Let Rayovac help you power your HOLIDAY!
Disclosure: I'm working with Rayovac as one of their Mom Ambassador's.
Key Messages
Don't forget the batteries this holiday season
Rayovac batteries offer more power for your money
Rayovac Powers Your Holidays!