Lifetime's Clean Start Challenge is in week 3… ! My mission for this Challenge is to increase literacy. As a mom of 4 little boys, it's my passion and one of my most favorite things to do… read and read to my little guys.
Increasing literacy in children starts from home. As moms we need to inspire and teach our children the power of reading books.
I'm so excited to be doing this challenge with Lifetime and SC Johnson and I'm honored to have partnered with First Book in trying to raise 10K for them! 🙂 How cool is that?
This week is all about sharing tips that I do at home with my own children when it comes to trying to increase literacy. There are 3 things that I do at home consistently:
1. Always have a stack of books near my sons' beds.
2. Always have books in the car. You never know when you may have a chance to read!
3. Choose different types of books – picture books, chapter books, topic books, etc. There's always those nights where you're very short for time and need to grab a quick book. Have different types of books for different types of night.
My little man Benjamin shot my latest video with me… he was fully engaged in his book (as you can see)!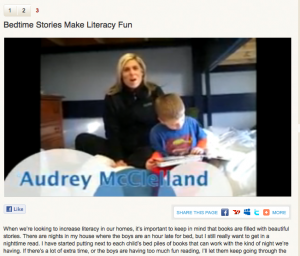 I would love to have your vote for my Clean Start Challenge… just vote for AUDREY!
I am passionate about trying to raise as much awareness as I possibly can… tell me, what do you read to your children at night?