We've Already Zipped through the entire alphabet in our search of 56 Awesomely Zestful adjectives… and here are the A – Z's, all happy to have met you and your children:
1. agile
2. azure
3. bay
4. blithe
5. camel
6. colossal
7. drowsy
8. defiant
9. elfin
10. enormous
11. faulty
12. flawless
13. golden
14. grizzly
15. heather
16. heliotrope
17. inimitable
18. inquisitive
19. jocular
20. jubilant
21. keen
22. knightly
23. lackadaisical
24. leonine
25. malevolent
26. malodorous
27. nimble
28. nonchalant
29. obstinate
30. ornery
31. piebald
32. pluvial
33. querulous
34. quotidian
35. rebellious
36. red
37. silent
38. solemn
39. translucent
40. treasured
41. ursine
42. utmost
43. valiant
44. venomous
45. wily
46. wry
47. xenophobic
48. xiphioid
49. yellow
50. youthful
51. zestful
52. zigzag
But we still have 4 to go to gather all 56 Adjectives… so we're revisiting Day 5 and Day 9 of our 31 Poems for 2 more delightful S adjectives:
1.  silver –  of the color silver, a lustrous white-gray. What to love about this word? silver is an elegant color, often used to symbolize/designate something fine or lasting, such as a 25th anniversary.  The color silver is highly recognized in jewelry, tableware and other ornamental uses.   silver is lovely and lasting, a lustrous shade in-between white and gray.
We bumped into the word silver in the poem Silly Song on Day 5 of 365 Days of Literacy for Kids:
SILLY SONG by Federico Garcia Lorca

Mama,
I wish I were silver.
Son,
You'd be very cold.
Mama,
I wish I were water.
Son,
You'd be very cold.
Mama,
Embroider me on your pillow.
That, yes!
Right away!
——————
In the poem, the child wishes to be silver.  In this case, silver is open to a bit of interpretation.  silver could be the element, something made of silver, a piece of silver… but I like to think of the wish as the color silver.  I think of silver as silver thread.  I imagine the mother embroidering with lovely, silken silver thread.
The adjective silver suggests a shimmery, bright, resplendent color.  Grab a color chart and compare silver to whites and grays.  Encourage your children to use silver in their writing and speaking for a lustrous descriptive feel!
2.  swift –  moving or able to move with great speed;  without delay. What to love about this word? swift is a great way to say fast or speedy.  All kinds of things can be described as swift… feet, hands, wings, hooves, tongue, storm.  swift can also be combined with words to express a combination of two qualities, such as swift-fated, swift-handed, swift-tongued, swift-paced, swift-heeled. Example:  The swift-heeled horse ran the race of his life.
We bumped into the word swiftly in the poem The Arrow and the Song on Day 9 of 365 Days of Literacy for Kids:
THE ARROW AND THE SONG by Henry Wadsworth Longfellow
I shot an arrow into the air,
It fell to earth, I knew not where;
For, so swiftly it flew, the sight
Could not follow it in its flight.
I breathed a song into the air,
It fell to earth, I knew not where;
For who has sight so keen and strong,
That it can follow the flight of song?
Long, long afterward, in an oak
I found the arrow, still unbroke;
And the song, from beginning to end,
I found again in the heart of a friend.
————————–
In the poem, swiftly is used as an adverb to describe the flight of the arrow.  If we were describing the arrow, we would use the adjective swift, as in:  The swift arrow soared above the trees and seemingly disappeared.
swift gives us a very visual way to describe something.  Encourage your children to experiment with swift… discovering things that move with great speed.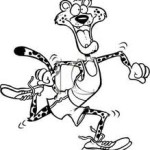 silver.  swift. 2 Adjectives that we may overlook as too ordinary or too common, but in fact are 2 Adjectives with great color, great depth and great speed!  Use them.  Remember that LITERACY is all about WORDS – Written, Spoken, Felt.