This is a full circle moment for me…
Most of you know that my first job out of college was working for Donna Karan… actually the Donna Karan.  I was one of her personal assistant's right out of college.  Working for Donna Karan was one of the best experience's of my life, she helped shape my fashion self and set me in the direction as to where I wanted to go.  I'll never forget her asking me once, "What do you really wanted to do?"  It's funny, I wasn't sure… I just knew that at that moment in my life, I was exactly where I was supposed to be.  She was a creative genius to be around and to watch every single day… she was a true fashion guru, and I felt honored to be there.  I ended up bouncing around Donna Karan International after I left Donna's office, eventually saying my final good-bye when I had my first son, William in 2005.  It was difficult to leave my friends and my colleagues, my New York City family… but I was determined to start my family and see where life was going to take me.  And well, it took me online.
I've had many people ask me through the years what my favorite Donna Karan product is… I always, always, always adored her Beauty Collection.  Cashmere Mist was and still is my most favorite and delicious fragrance on earth!  As a matter of fact, for my wedding… I bought all my bridesmaids Donna Karan Cashmere Mist perfume, that's how far my love goes.  🙂
So one can only begin to imagine how excited I was to get a beautiful package in the mail from Donna Karan Cosmetics asking me if I wanted to take a Donna Karan Cashmere Mist Ultimate Cashmere Sculpting and Body Serum 12-Week Trial.
Um. YES!  (Triple YES!)
Donna Karan Cashmere Mist Ultimate Cashmere Collection is an advanced technology body collection that promises to treat and deliver fast-acting results on your body, all while scented with the iconic Cashmere Mist scent that I know and love! The words fast and action in the same sentence are pretty enticing words to hear, especially during the summertime.
I'll be trying the Collection out for the next 12-weeks and reporting back here on Mom Fashion Report! Week 1 started last night…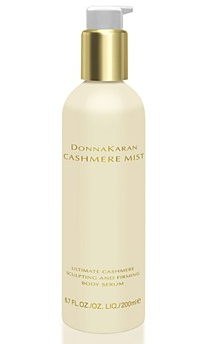 I tried these 3 products out for the first time after I showered last night:
– The Ultimate Cashmere Sculpting and Firming Body Serum
– The Ultimate Cashmere Renewing Hand Treatment Creme
– The Ultimate Cashmere Moisturizing Bronzing Gelee
I need some sculpting and body firming pretty badly, so I'm excited to see how these will transform my body's skin! I will say this, I told my husband what I was doing as he was coming into bed last night and he said, "Is that what I smell?" He loved it! And as I woke up this morning, the scent is still with me.
I'm gearing up for this luxurious experience with Cashmere Mist!
Disclosure: Donna Karan Cosmetics sent me this package for review and 12-Week trial.