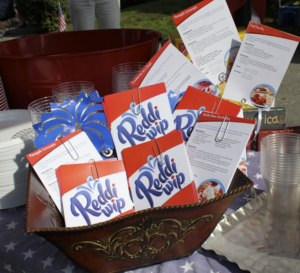 Family and friends and lots of kids… including 9 grandkids!
The 4th of July.
A truly old-fashioned backyard BBQ.
A Reddi-wip just-the-right-size-for-kids-and-adults dessert table filled with cool & summery, light & creamy, fresh & delicious fruit desserts!  Luscious strawberries, blueberries and bananas. Pineapple slices. Vanilla Wafers.  Strawberry Jam. Pretzels.  Granola. Graham crackers. Chocolate syrup.  Honey.  Individual parfait cups.  Creativity.  Fun treats and Reddi-wip to top it all off.  With only 15 calories per serving, Reddi-wip is a treat you can really feel good about for you and your kids.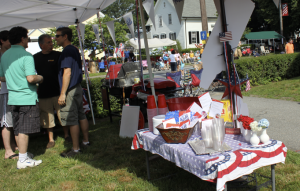 The beautiful harbor town of Bristol, Rhode Island, home to the oldest continuously-running Independence Day Parade in the entire United States of America… this year celebrating the 226th Parade with about 250,000 participants and  spectators from all across This Land.
A festive house on the red, white & blue parade route on a delightfully hot, hot July day…
All combined for a grand ole day of fun and memories!
You have to get up mighty early in the morning, like 4 am early, to get a spot at the Bristol 4th of July Parade.  Lucky for us this year, Jane has a house right on the famous route.
This little detail, and Reddi-wip, gave my family and guests the happiest, most fun, most patriotic, most loud, most fabulous, most delicious 4th of July  Backyard BBQ ever.
And all of my guests were able to leave with a beautiful Simple Garden Herb Kit to continue their summer enjoyment!
Thanks Reddi-wip for a truly spectacular 4th of July.
An incredible Giveaway to be ANNOUNCED SOON – STAY TUNED:
One lucky reader will receive this identical gift of this beautiful Picnic Basket, a Harry & David Fruit of the Season Membership, a Fruit Bowl, a Gardening Kit with Gardening Seeds, an Herb Kit… and Reddi-wip Coupons and Reddi-wip Recipe Cards with everything you need to know to create the most light & creamy summer desserts under the sun!