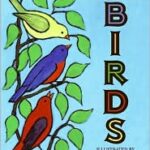 BIRDS – by Kevin Henkes and illustrated by Laura Dronzek
The book BIRDS by Kevin Henkes and illustrated by Laura Dronzek brings the beauty, the magic and the songs of birds right into our lives through the curiosity and delight of a little girl narrator.
The little girl discovers lovely bird colors and shapes and sizes.  She notices how birds on a telephone wire magically disappear if she looks away for but a moment.  She imagines birds as clouds and sees the vividness of one red bird in winter.  She sees a giant flock of birds all fluttering away at the same time.  She asks where birds go when it's stormy and they can't find their nests.
She pretends she's a bird, but of course she cannot fly!
But she can SING.  Just like a bird.
What we discover is that we, too, can hear birds singing… no matter where we live, if we listen carefully enough.
But what is the real tweet-tweet in real-life on BIRD SONGS ?  Here are a few little tidbits to pass along to your kids and grandkids to combine literature and life:
– Birds sing to attract a mate and to impress a mate.
– Female birds judge a potential mate by the quality of its song.
– Birds sing to protect their territories from other birds and predators.  These songs have a distinct KEEP OUT message.
– Birds often sing their songs thousands of time each day.
– Some species sing while in flight.
– The Brown Thrasher sings about 2,000 distinct songs. On the other hand, or wing, the Henslow's Sparrow sings only one song.
– The Nightingale has 300+ different love songs in its repertoire.
– The Canary takes up to 30 mini-breaths per second to replenish its air supply.
– The Cowbird uses 40 distinct notes, some so high that human beings cannot hear them.
Ah.  Birds' songs in real-life.
Reading the story of BIRDS and the little girl with your kids and grandkids, with a little knowledge of birds' songs in real-life, gives you so much to discuss… and your kids so much to think about as they embrace the literature.
The book BIRDS gives us a great opportunity to talk with our kids about listening for the songs of birds and to identify why they're singing.
Maybe you can even sing along… just like the little girl in the story!
Join me here each day in August for AUGUST TWEET-TWEETS on 365 Days of Literacy for Kids! A little fun, a little learning and a bit of "tweet-tweet"!