One of my friend's from home had a baby (her 1st) in June. She called me last week saying that she still wasn't fitting into ANYTHING and how was she going to be able to dress up for work (she's a teacher and starts back up in September) comfortably?
Oh… I remember those days.
I also remember dressing up yoga pants for work after I had William (and I worked at Donna Karan!), hoping that nobody would notice that I was in – well, sweats… but I needed something comfortable on my waist. I need it badly! I couldn't snap, zip or button my "regular" pants for months. My fold-over yoga pants (literally) saved me.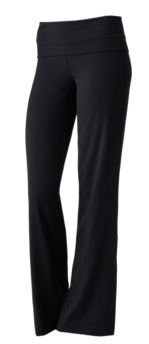 So I passed these ideas along to my friend…