It seems that on this past Saturday, October 22nd, everything aligned just perfectly for my husband Barry and me to run in a race together for the first time ever.
That would be ever.
Barry never considered himself a runner.  And I began running just 3 years ago.
Barry would become my biggest fan… making breakfast for me before my first 5K, calming my nerves that ran rampant in giant circles inside my stomach.  He would make breakfast for me before every race after… cheering me on to a 5-miler, 10K, 13.1, 70.3 Ironman and 26.2 and calming those nerves that always show up in my stomach on race day.
Barry would know my run schedule, my training routes and my approximate times… and find the time to wait for me on our front porch with a giant smile, a giant hug and sometimes even an ice cold Miller Lite (for carbs, of course).
Our adult children and in-law children run.  They run all kinds of races.  5K's, half marathons, marathons, 70.3's and everything in-between.  Our grandchildren are now loving to run.
And Barry is there for everything.  Everything.  Cheering from the sidelines.  Always.
Barry grew up playing basketball… every moment he could, and he got very good at it.  As a young adult, he taught himself to play tennis and got pretty good at it.  He took up golf, then skiing and got pretty good at these things, too.
Barry even ran a few races… very fast, I might add… but knew all the while that he was messing up something in his knees, his hips, his legs.
Then a severed quad (during a basketball game) and a hip replacement within the last 12 years side-lined Barry with the pounding courts and pounding pavement sports.
Until 9 weeks ago.
9 weeks ago, I was commiserating with our daughter Jane about not doing anything all summer long after accomplishing a life-dream of running a marathon in May… no swimming, no biking, no running.  I wrote about it here.
At just about the same moment in time, Barry decided that he wanted to get into some exercise program that he would enjoy and that would keep him accountable.  I wrote about it here.
We both began our C25K journey.
Together.
Barry is the math guy.  I'm the dreamer.  Together, we combined our "skills" and we designed routes, logged in moments and minutes and miles, kept each other going, talked and laughed and made plans to really do this thing, really accomplish what the program C25K program says…
Really run a 5K.
Together.
Then more alignment with the universe happened when one of my favorite and most beautiful, generous, gracious, funny ladies in the world, Melissa of Wherever I May Wander and also over at Sisterhood of the Shrinking Jeans, wrote about Run the 'Hood 2011.
The Run the 'Hood is a virtual race.  What?  Yes, a virtual race for "anyone from anywhere! All ages, abilities, walkers, runners, woggers… everyone can participate!"  Runners can design their own routes or join in a local 5K.
Barry (the math guy) calculated that the Sisterhood Run the 'Hood '11 was exactly 9 weeks from Day One of our C25K training.
We talked about designing our own route, but as Barry got more and more awesome at the running thing, we dreamed (that would be my forte) of entering a local 5K.
Our daughter Jane (who owns Rhody Fitness and knows just about everything about everything fitness) would find the perfect race for us at Barry's alma mater, Providence College ON THE EXACT DAY OF RUN THE 'HOOD and the end of our C25K training.
SERENDIPITOUS!
And that's how Barry and I ended up running a race together for the first time ever… a 5K with the inspiration of each other, a great program, a virtual race and a real race!
And this is how it went…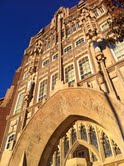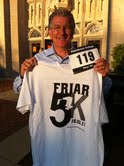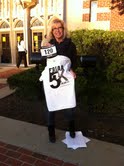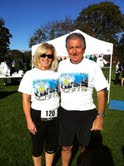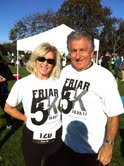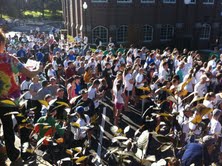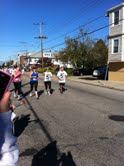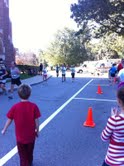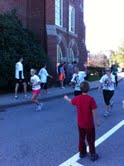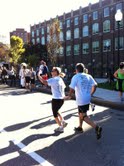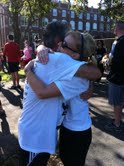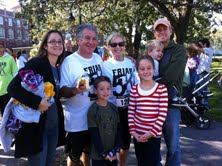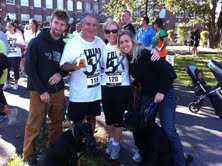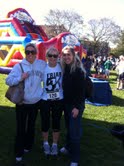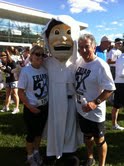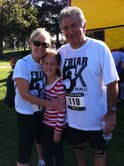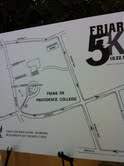 My heart is so full with this accomplishment, my pride in Barry, the support and love of my beautiful family, the Sisterhood (Barry is now a sistah!), and the hope that anyone who reads this knows that with  proper training, with heart and a goal… the universe works with you!
It does.
(And the universe also provides the after-race carbs)…