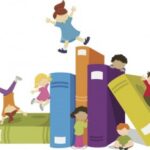 During the month of November, I will be sharing KNOW-VEMBER: FUN NOVEMBER FACTS from all around the world.
Take a few moments from each November day and share the KNOW-VEMBER fun, knowledge, discovery and smiles with your kids and grandkids.
*************************************************************************
Day 327 of 365 Days of Literacy for Kids:  Fun, Easy & Do-able Daily Activities for Kids!
There is no one definitive story about why turkey is associated with Thanksgiving… but many stories cite the turkey's popularity because it's been both plentiful and inexpensive over the years.
How many of you will be serving turkey at Thanksgiving Dinner?
Well, get ready to introduce your kids & grandkids to the World's Largest Turkey!
Big Tom, as he's known, "lives" in Frazee, Minnesota.  He stands over 20 feet tall and is bronze in color. Including the tail, the width of Big Tom is 17 feet.  He has 1,000+ pounds of steel reinforcing his body and weighs over 5,000 pounds.  Big Tom's legs were designed a bit shorter and stouter than a normal turkey to better handle his great weight.  There are an estimated 3,000 to 4,000 fiberglass feathers on Big Tom which took D.W.O. Fiberglass Company over 2000 hours to complete.
Now THAT'S a BIG TOM!
To learn more turkey facts and/or read a wonderful turkey book with your kids and grandkids, visit here.  You'll certainly have a lot to talk about during Thanksgiving Dinner.
Join me here each day in November for KNOW-VEMBER: NOVEMBER FUN FACTS – on 365 DAYS OF LITERACY FOR KIDS! – fun, easy and completely do-able!