Why a Shellac Manicure?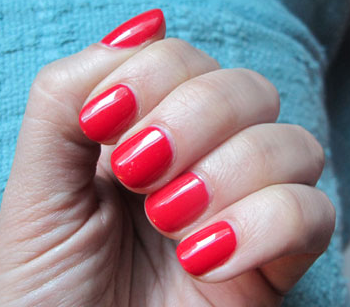 I've been getting a TON of questions asking about Shellac Manicures lately… and I have to admit, I'm a BIG fan!
My own mother introduced me to them about 6 months ago. I wasn't sure what to expect and truthfully the word "Shellac" made it sound like my nails would be plastered with glue or real paint. LOL…
And obviously, it's not really like that. 🙂
So what's a Shellac all about? Why go with one?
Well… there's really 2 reasons why I love the Shellac over a regular manicure.
1. A Shellac Manicure lasts 14 days without losing shine or shimmer.
(Which is fantastic considering a regular manicure starts to chip and lose its shine in 7!)
2. Removal… is super duper easy. There's not sitting there with a cotton ball going over your nail 20 times to get the polish off. The Shellac Nails comes right off with application of acetone.
And honestly… the actual application steps aren't all that much different, it's just a different kind of polish.
Let me know what you think! I've got mine on now, and I'm excited to know it will last through the beginning of December! At my nail place in Rhode Island it's only $18 (just a 5 dollar difference from the regular), for me it's worth it!