I'm a bag girl, always have been… always will be. My motto: you can never have enough totes or handbags, it's just a fact of life. And because of my love/obsession with totes, I'm always (always, always) asked to recommend some trendy, chic, high quality and fabulous ones for moms. Well… I've got a great one for you today.
Have you heard of Thirty-One Gifts? (They are amazing.)
Thirty One Gifts is a leading direct sales company w/ hundreds of bags, totes, home and organization products which can be personalized & monogrammed.
Thirty-One Gifts have Thermal Totes and Cinch-It-Up Totes that are AWEsome for moms to have on-hand in their homes.
First up… the Thermal Tote.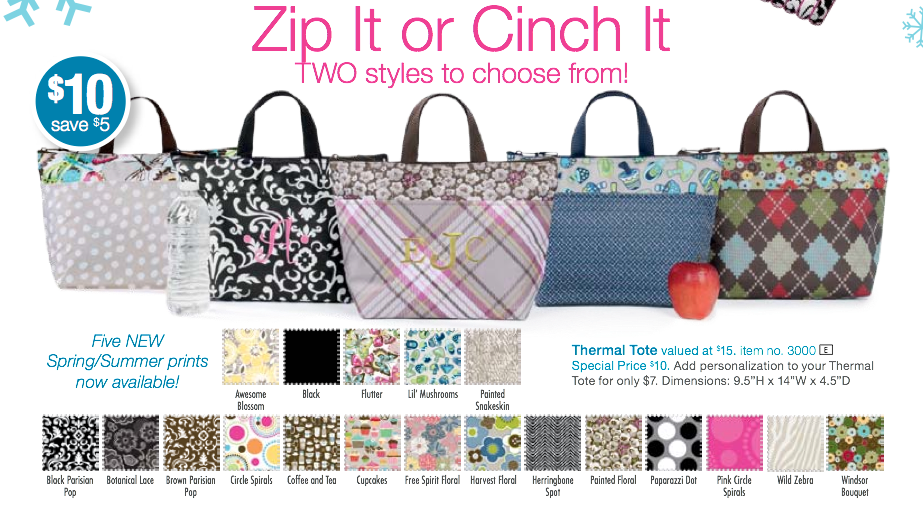 I LOVE the look of the Thermal Tote because it's such a classic tote. It's absolutely perfect for school lunches and eating on the on-the-go. We're always on the go in our family, so this is such a great option for us to keep things on-hand in the car when we're heading to swim practice, basketball or gymnastics. It's also great for keeping baby bottles and drinks cool. There's an exterior pocket for napkins, cutlery or dry snacks, as well as a zipper closure. I love that I can simply slip in a freezer pack and food stays cool for hours, perfect for 4-6 hour swim meets! The Thermal Totes measure approximately 9.5" H X 14" W X 4.5" D which is a nice ample size for lunch containers! The fashionista in me loves it because it's available in 11 styles and designs, not to mention you can customize with personalized embroidery for only $7 more – with dozens of different fonts and colors.
But the best part about the Thermal Tote?
Now through JAN 31 you can get a special price of $10 for one! (regularly $20)
Next up… the Cinch-It-Up Tote!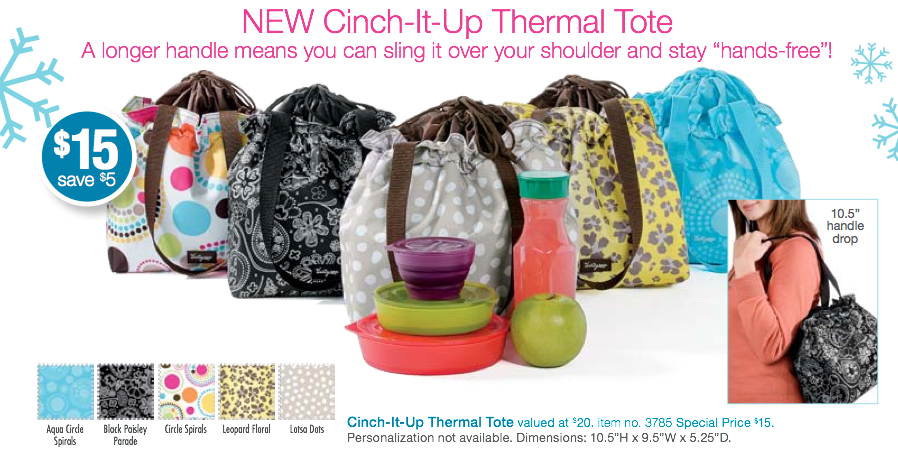 You want chic? You got chic with the Cinch-It-Up Tote. This is a new style that was just introduced for Spring 2012. What's different about the Cinch-It-Up is that it's 30% bigger than the classic Thermal Totes. It's absolutely perfect for moms to take along snacks for a busy day on the run, road trips or sporting events. I also love that there are longer handles on the Cinch-It-Up. Oh, yes… this means you can toss it over your shoulder and keep yourself hands free (perfect for moms!). It features a drawstring closure for maximum space and a silver thermal lining to keep food cool or warm. This gem (which is approximately 10.5"H x 9.5"W x 5.25"D) comes in 5 bright spring patterns – aqua circle, black paisley parade, circle spirals, leopard floral and lotsa dots… you can't go wrong!
There isn't embroidery available on this product yet, but you can get it customized with flower rosettes, scarfs and icon hang tags.
Best part about the Cinch-It-Up Tote?
Now through JAN 31 there's a special price of $15 for them (regularly $20)!!
INSANELY good deal!
My advice stock up for yourself and for gifts throughout the year. I'm thinking teacher gifts, birthday party go-to gifts for kids or gift bag swag.
Now… in order to place an order for any of these totes, you need to contact a Thirty-One Consultant, which you can do right by heading over to their website. But… I also wanted to share what a wonderful opportunity they offer by becoming one. If this is something you're looking for right now, I highly recommend contacting them to get more information. It's always a good thing to have some extra money coming into the household! 🙂
Product is sold through Thirty One Gifts consultants. Locate yours by visiting www.thirtyonegifts.com.
Disclosure: This is a sponsored post.