Fashion Find: Obsessed with Warm Affection Sweater at ModCloth.com
I've been looking for the perfect sweater to wear with skinny jeans and/or leggings. I've been wanting something long, but not too long. You know what I mean?
I was on ModCloth.com yesterday and found exactly what I've been looking for…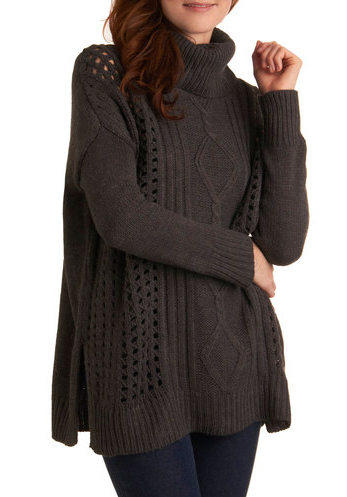 Nothing beats some on-the-couch cuddle time with the ones you love. Dress ready for cozy embraces in this soft slate sweater, which features sheer eyelet-knit designs and an uber-snuggly turtleneck, so that your signs of affection will be as stylish as they are sweet! Layer it over a fir-green tee, then match it with a pair of antler-printed leggings and shearling-lined boots for a look that asks, "Have you hugged someone yet today?"
I just love that it's long enough to go past my butt, but short enough not to look like a dress!
It also just screams cozy and winter and comfy to me, just what I need right now in New England!
Perfection in fabric!