This New Year is the year for me to get myself into the gym and be as healthy as can be. Gone are the days of working out maybe once or twice a month. Gone are the days of eating fast food. Gone are the days of putting high fat, high calorie drinks and food into my body. I want to be healthy for 6 people – myself, my husband and my 4 sons. Period.
I have been super duper proud of myself because I've been working out at least 3 days a week since the beginning of the year. I think I always felt that working out needed to be something totally hardcore and something that wasn't fun (a.k.a. running 6 miles). No… no… no… to me, now… it's all about walking for 30 minutes, riding the bike at the gym, swimming laps for 45 minutes or running 2 or 3 times around my neighborhood loop. Doable and practical things for me to do to keep myself healthy.
I'm also one of those people who are counting calories and really taking into account what I'm putting in my body. My home life and my work life keep me pretty busy, so I need to make sure I'm keeping up the best way I can by putting into my body the best things possible.
Recently OmegaWater by Nature's Omega got in touch with me about sending some of their new flavored water for me to try out. Omega Water, is the only zero calorie flavored water fortified with Omega-3 and six essential daily vitamins. Each bottle of highly purified water has over 100% of the recommended daily Intake of Vitamins B3, B5, B6, B12, C and E as well as 100mg of Omega-3 EPA/DHA. I was INSTANTLY intrigued and in addition to that — because I'm one of those people that loves, loves, loves flavored drinks — especially anything with a lemon or orange taste. As soon as I saw that OmegaWater had those 2 flavors in the bunch, I was excited! They come in Lemon Squeeze, Berry Breeze, Orange Splash and Fruit Fusion…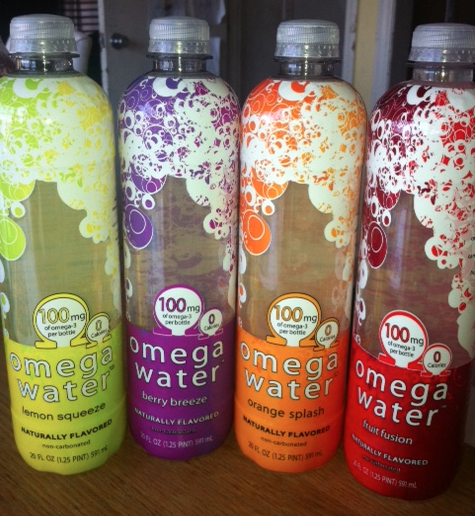 … all non-carbonated. Not to mention, the fashionista in me loves the look of the fabulous, bold bottles. But this is my very favorite part, check this out: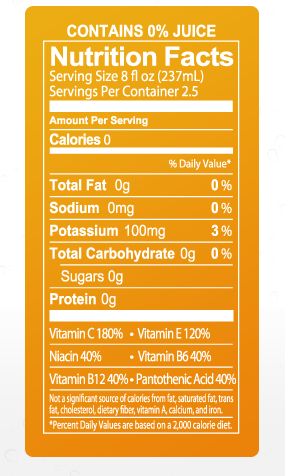 But beyond all of this, it's the Omega-3 fatty acids that is so different and beneficial in the OmegaWater. Seriously… it's worth repeating, OmegaWater is the ONLY flavored water fortified with Omega-3 and six essential daily vitamins. The FDA qualified health benefit of Omega-3 fatty acids is a reduced risk of coronary heart disease (CHD), which is something that just literally blows my mind. Our bodies cannot naturally produce the nutrients found in Omega-3 so we must get them from outside sources. 
Recent studies have shown several potential benefits of Omega-3's, including:
·        Improvement of cognitive function in both children and adults
·        Help with psychiatric disorders such as depression
·        Increased mental focus and motivation
·        Reduced stress levels and mental fatigue
·        Reduced macular degeneration
·        Strengthened red blood cells which may improve blood pressure, heart rate and vascular function
·        Possible anticancer benefits
·        Potential to counter inflammation
·        Higher level of satiety and appetite reduction
My husband (who usually isn't a fan of flavored drinks) tried it out, too and loved it. Fortunately he's a "Berry" guy, so he was very happy trying out the Berry Breeze and the Fruit Fusion. He loved the nutrients and vitamins in OmegaWater, he's one of those guys was checks every single thing he's putting into his body. He's gone through a tremendous weightloss and health haul over the last 2 years, so to see him so intrigued by OmegaWater was cool, too.
But still… my favorite is the Lemon Squeeze! 🙂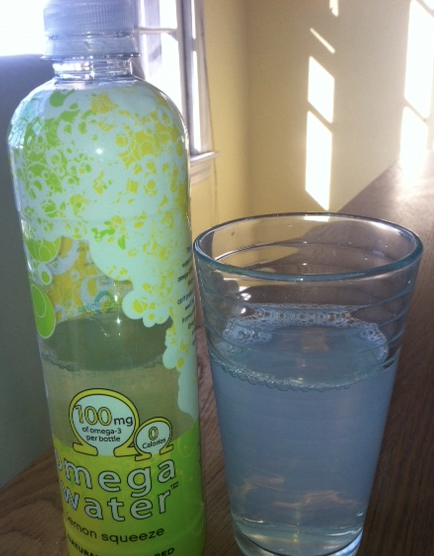 So you're getting a delicious flavored water drink with no calories and tremendous health benefits. We're talking the full body, mind and soul. It's a win-win-win.
OmegaWater can be purchased online at Amazon and is also available in select states.  You can find out more at http://omegawater.com/find.
Thanks for letting us try out OmegaWater, we love it and will absolutely continue to buy and use it!
Also, follow them on Facebook and Twitter! They do an excellent job keeping up with their fans and keeping everyone in the loop!!

Disclosure: This was a sponsored post, all opinions are my own.