How to Improve Kids' Reading & Vocabulary Skills in 2 Minutes a Day…
The excitement and rush of the holidays is over and kids are settling back into their routines of ordinary.  But teaching kids the secret of ordinary is one of the most extraordinary gifts you can give to your children.
The secret begins with WORDS… and ends in a lifetime of delight.
Remember Satre's words, "To read a poem in January is as lovely as to go for a walk in June." Grab the kids and come along for another poem in January.
Another walk with words. Simply l-i-s-t-e-n and you'll hear a universe of beauty with hardly any sound at all…
Find a moment.  One moment.  Everyone shhhhhhhh and listen.
Can you hear it?  Can you?  18th century Japanese poet and painter Yosa Buson gives us an extraordinary moment that we may have otherwise overlooked: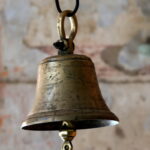 On the temple bell
Settles–and is sleeping–
A butterfly.
Read the poem aloud to your child, or have your child read the poem to you.
The first read will most likely be a real read with solid syllables and tone… resonant, much like a temple bell itself.  But you'll quickly discover that another read will focus more on the softness of the words Settles and sleeping.  You may even find yourselves whispering.
You will feel yourself getting into this extraordinary moment, like magic.
The great surprise and contrast is the butterfly!  What sound does the butterfly make as it settles on the bell?  What sound does the temple bell make?  What exactly is the sound of silence?
How about printing this post and having your children draw the butterfly settling or sleeping.  Or find a bell… the tiniest or the biggest bell.  Touch it lightly, like a butterfly might.
Here Buson offers us our own enhanced sensibilities of magnificent silence in this moment.  A image in the slowest of motion.  An extraordinary ordinary!
All that in one moment.
Talk to your children about the hundreds, thousands of beautiful moments that come and go in haste.  We must be careful to recognize them.  A baby settling in with a blanket.  A brewing cup of tea.  A snowflake on a mitten.  A leaf falling from a tree.  A leaping frog.  The moment you hold someone's hand.  Just before the bell rings for recess.
Poetry is always ready to communicate these magnificent moments.  Be ready, too.  It's all about the WORDS.  The tiny details.  The sounds… even if it's silence.
The sharing.  The reading.  The talking.  The smiling.  The moments captured.
Take a walk with words today.  Bring your kids along!  Look for the beauty in the ordinary.  It's a gift!
LITERACY is all about the words.  Written. Spoken. Felt.