How to Improve Kids' Reading & Vocabulary Skills in 2 Minutes a Day…
The excitement and rush of the holidays is over and kids are settling back into their routines of ordinary.
But teaching kids the secret of ordinary is one of the most extraordinary gifts you can give to your kids.
The secret begins with WORDS… and ends in a lifetime of delight.
Remember Satre's words, "To read a poem in January is as lovely as to go for a walk in June." Grab the kids and come along for another poem in January.
Kids love words.  Kids love to use words.  Kids love the creative spontaneity and fun of knowing and using words.  Having fun with POEMS is a wonderful way to hear, see and use words with kids.
Take a few moments to share this poem and this little activity with your kids.  You will be amazed at their responses…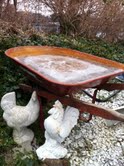 The Red Wheelbarrow by William Carlos Williams
so much depends
upon
a red wheel
barrow
glazed with rain
water
beside the white
chickens
If your child can read, have him/her read the poem aloud.  Or read the poem to your child.
Talk about the great big meaning of resolutions for the New Year… then talk about the beauty, importance and happiness in the very ordinary, very simple things in our lives.
A wheelbarrow, so often overlooked but so necessary and utilitarian.  Water.  Chickens.  The great contrast of the colors red and white… and how colors add so much beauty to our world.
Talk about which very ordinary and very simple things enhance your lives… things you often overlook. You may hear answers like "peanut butter & jelly" or "my pillow" or "my sneakers" or "my crayons" or "my nightlight."  Tell your kids about your extraordinary ordinary things.
All answers are correct!  Talk about how the simple things can actually help make our great big resolutions easier to achieve… things like peanut butter & jelly, pillows, sneakers, crayons, nightlights.
Children love words.  Children love to use words, have fun with words, talk about words… and remember words.
The simple beauty of The Red Wheelbarrow teaches elegance of language, extraordinary imagery and the basic truth and intricacies of life, and even very, very young children understand and grasp these concepts.  The poem itself is like the brush stokes of a marvelous painting.  Let your children in on the magic!
With The Red Wheelbarrow, your children will have the words of one of the world's most celebrated poems, written by a Pulitzer Prize winning poet, dancing in their heads.  And they will remember.
Reading begins with words – Spoken, Written, Felt.