Today I attended my girlfriend Leah's baby shower. Leah and I have been friends for a very long, long time. I'm talking, we went to kindergarten together long time. So I was very excited to head to her shower and pamper her and celebrate her for the day!
It's a COLD Sunday here in Rhode Island today. The wind is blowing and the chill factor is through the roof! I wanted to dress up for the shower, but I also knew that I needed to dress weather appropriate. What should one wear to a Sunday Baby Shower in cold, cold, cold weather?
I opted for all black because I knew I was still feeling sick and just didn't feel like wearing bright, bold colors… so I went for the monochromatic look because I knew it would be easy to put other.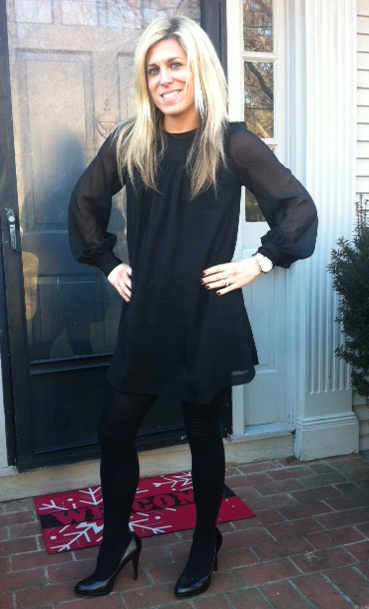 Mini Black Dress from H&M
Black Tights from H&M
Black Heels from Nine West
I felt comfortable, very appropriate and chic all at the same time. Those tights were as thick as pants, so they were totally-toasty!
The funny thing is… I ended up wearing the SAME outfit as my friend Leah! 🙂