I discovered something about myself this past weekend.
Something kinda magical, actually.
I might be a grandmother of 9….
BUT I LIKE BEING A PRINCESS!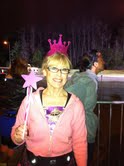 This Royal Transformation came about as many modern Royal Dreams do… through the world of Disney.
It began when I was invited to the 2012 Princess Half Marathon Meet-Up, where princesses (and yes, princes) gather with other princesses, princes, Disney characters and running Olympians/greats/experts/consultants such as Minnie Mouse, Jeff Galloway, Rachel Booth, Betty Wong and Suzy Favor Hamilton to talk, well, about running and the pure magic of encouraging many, many tens of thousands of runners, especially women, of all ages and capabilities to RunDisney…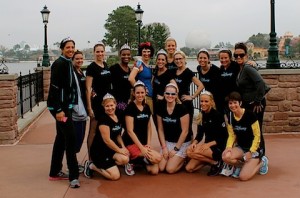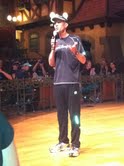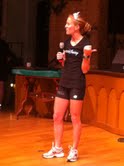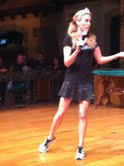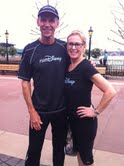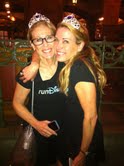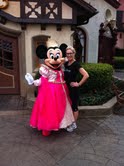 … and to actually RUN with Jeff, Rachel, Betty and Suzy through Epcot very early on Friday morning…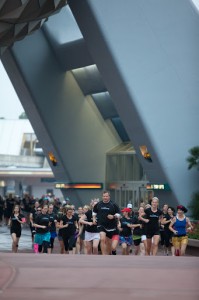 But I think the official PRINCESS transformational moment happened when I caught a glimpse of this…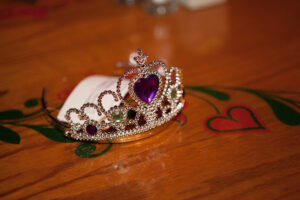 (OK.  OK.  So we each got one.  But this only adds to the magical discovery that each of us has the strength and character to rise to whatever level of life, challenge, dream, hope or wish we may carry in our hearts.)
For me, the discovery came a little later in life. I didn't begin my running journey until I was 56 years old… a bit over 3 years ago.  By then, I was a Grandma of 9 beautiful little grandchildren – 2 girls and 7 boys.  I basically just put on an old pair of my daughter Jane's running shoes one night, opened my back door and took my first step.
I never imagined back then, in my wildest dreams, that I would ever be considered a RUNNER, never mind be invited to a RunDisney weekend event, filled with the air and aura of 20,000 or so running princesses.
This is where the magic kicks in.
I hesitated to accept the invitation to the RunDisney event because I hadn't been training or putting in the miles to run 13.1 miles, and we had had a recent family medical emergency. I'm sort-of the matriarch of my very big family (4 kids, 4 in-law kids, 9 grandkids, 1 husband! and my own Mom)… the unofficial (very unofficial and self-appointed) Queen, if you will.
But with the incredible encouragement of my family, my husband Barry and I took flight to Disney World.
Once there, especially on that Friday morning running through Epcot with dazzlingly happy faces all around me, I realized that I had never RUN a race or event very far from my home.  I've done 5k's, 10k's, 10-milers, 13.1, a Half Ironman and 26.2 all with driving distance from my home.
I had felt safe, I think.  I felt happy… but safe.
But running Disney, I felt radiant.  Magical.  All around me were women of every ability, from Olympians and elite to fellow grandmother and new beautiful friend Mary Butler and me running along at our own pace, chatting up a swirl of fairy dust…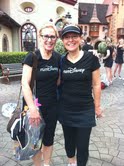 That's when I became a running Princess… fabulous, fun, free, festive… with a place at the Royal Ball of life itself.  I felt like Cinderella, my childhood princess.  It may have taken me 59 years to arrive, but arrive I have!
I put on my sparkling Princess tiara that morning and wore it everywhere for 3 days, as did thousands of other RunDisney Princess runners.
Of course, we still had the excitement of the ESPN Expo, the Disney parks themselves, the Tangled 5K on Saturday and the Princess Half Marathon on Sunday…
(There is so much more to tell you, and tell you I will.  I have a royal carriage load of posts going on right [write] now!)
Please come along with me on the magical ride…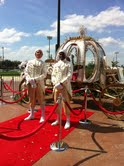 Princess Grandma.
Yes, the title fits!
Disclosure: Thanks to runDisney for letting us attend this event as media and covering our race fees and hotel expenses. As always, all thoughts and opinions are our own.