How to improve Reading & Vocabulary Development AND teach Poetry to Kids!
Let's talk about reading a poem today.
Shall we stay inside to read that poem? Or head outside?
Can we make the decision to stay all cozy inside AND head outside… at the same time?
Of course not!
But perhaps this little poem about a snail by 20th century novelist and poet Richard Wright gives us the option to do both…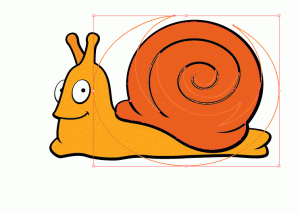 Make up your mind snail!
You are half inside your house
And halfway out!
In this poem, Richard Wright experiments with the form of the traditional Japanese haiku – with its 3 lines and a specific number of syllables per line.
Wright's poem celebrates a little wonder of life… the snail.
Read the poem with your kids or grandkids. Read it a couple of times.
Talk about the wonder of that little snail who carries its house from place to place.  Talk about how it pulls itself back into its shell when disturbed, danger threatens or to escape the weather. The snail house also protects the snail from sharp objects or vegetation as it pulls itself from here to there. That little snail house seems like a pretty good deal!
The voice, or speaker, of the poem comes along and notices the half-in, half-out snail.
This is a tiny moment of life, a sliver of time… but that moment can make us hesitate, smile, think and talk to the snail.
Hey! Make up your mind snail!
Ask your kids why that snail may be half-in and half-out. Is it feeling a bit threatened? Is it getting ready to make a move? Is it just enjoying the day? Is it finding a nice place in which to read a poem?
It's moments like these that poets capture… wonderful moments that so many of us rush by.
It's poems like these that teach children to notice life. It's noticing life that counts when it comes to becoming proficient READERS.
During the rest of today, focus on finding little moments and little details, just like the snail half-in and half-out of its house. It's great fun!
Remember that READING is all about the WORDS… Written, Spoken, Felt.
Oh. Back to the original question. Is it possible for you to be half-in and half-out of your house… at the same time?
You decide!