I'm going to start a new feature on my Mom Fashion Report on MomGenerations.com… my daily obsession. There are just things I love and absolutely, positively need to share.
Today?
Well… it's all about some pink and Vera Wang.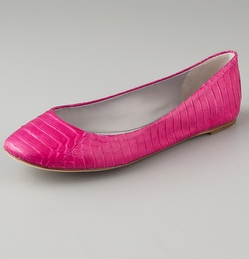 I'm obsessed over these gorgeous pink embossed snake ballet flats.
I'd love to find a faux pair, but I'm ga-ga over the color and the texture.
Imagine these with all black on, too. LOVE!